All Ords Report 23/10/2012
Last year, with their share price falling due to the phone tapping scandal, Newscorp undertook a share buyback to support their share price. The result is that since the low of $13.32 in August 2011 the stock has rallied, almost doubling in price. Newscorp are now talking about another buyback, so can investors expect this stellar rise to continue, and if a buy back is confirmed should they participate?

Typically companies announce buybacks to support their share price as was the case with Newscorp last year, or as part of good capital management. There can be a variety of other reasons why, however, the important thing for investors to remember is that in general buybacks are good for the company, and in turn the share price.

When a company buybacks its shares from investors they create more scarcity, as there are now less shares available in the market place and less shareholders. That said buybacks can present a good time to sell on market as the share price is likely to be supported and with the rise astute shareholders can profit, whilst with off market buybacks there are no transaction costs and sometimes shareholders are given incentives to sell. A word of caution with off market buybacks is that you may not be told exactly at what price the buyback will proceed.

The big question in the case of Newscorp, is will the announcement of another buyback be good for investors? Only time will tell, however I suggest investors look at it as possibly a good time to take some nice profits.

So what do we expect in the market?

Last week the All Ordinaries Index finally moved solidly past the 4500 point level and in doing so it indicates further upside is ahead for the Australian market. With each move up the market makes during this time the probability increases for further rises to levels seen in early 2011. Looking at the shorter term horizon, and taking into consideration the strength of last week's rise, I am still confident that our market will move up to at least 4600 points in the near term, and possibly as high as 4700 points before the end of the year.

The next low on our market is now likely to occur in around January, and so at this stage our market is likely to peak just before Christmas. Soon you may hear talk of a 'Santa rally' in the media as is the case around this time each year, however investors need to remember to look for confirmation that this is likely to occur, rather than speculation. If the RBA announces another interest rate cut on Melbourne Cup day then it is possible that the current bullishness will last through the festive season and into January.

It is important for investors to also take a bigger picture view on the market and as our last major low was in March 2009, right now is the time for investors to be making some gains and to watch the market carefully for opportunities while being prepared for the next four year low sometime in 2013.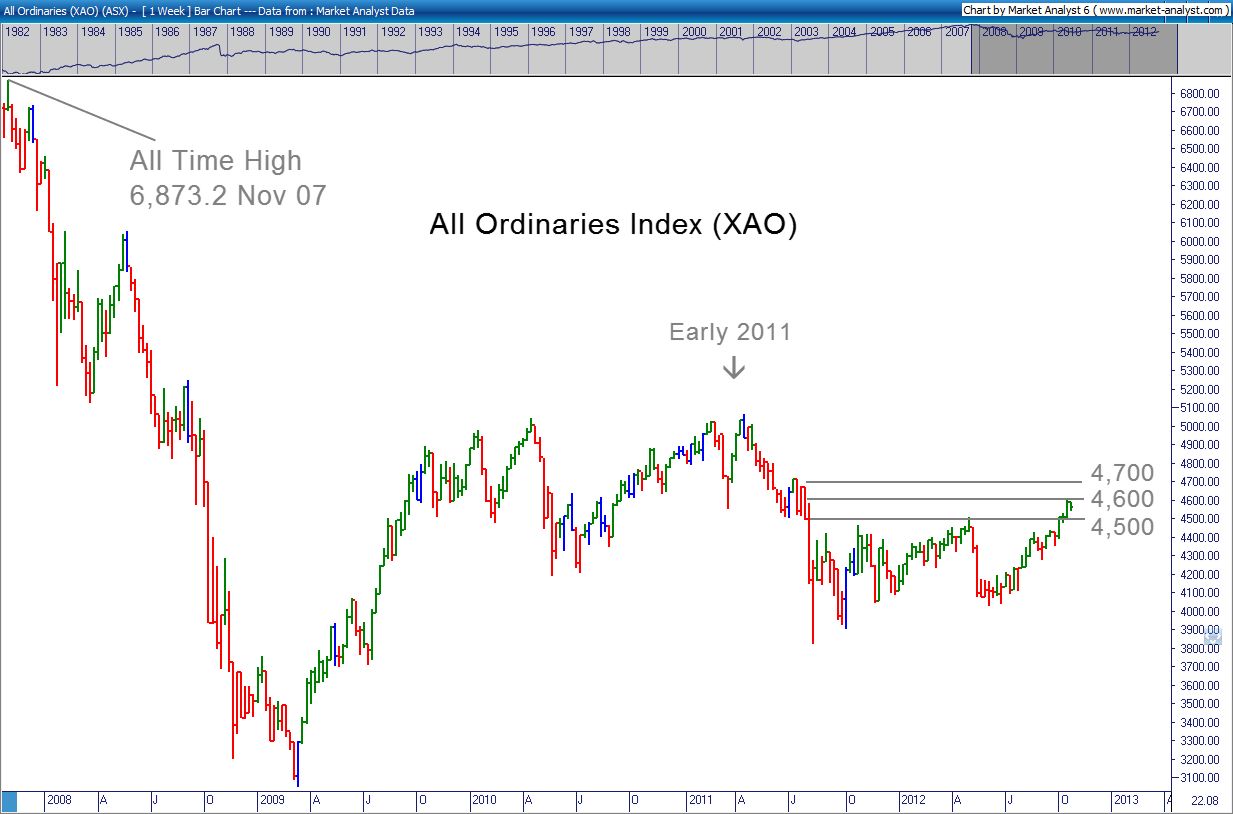 Click here to see the image in full size
Visit Wealth Within on
Facebook
or twitter #wealthwithin.
Until next time
Good luck and profitable trading
Dale Gillham
Chief Analyst