All Ords Report 07/05/2013
In an effort to pump up the housing industry and offset the slowdown in the economy the Victorian government has increased the First Home Owner's grant. I question whether this will achieve anything other than force families to move further out from the city and put pressure on resources by increasing urban sprawl. Today people want to have access to good roads, public transport, shopping and entertainment, and don't want to have to wait years for it.

What the government has done is to scrap the $7,000 grant which allowed first home buyers the choice to either purchase a new or an established property. This has been replaced by a grant for $10,000 but this money can only be used to purchase new homes. Unfortunately this limits first home buyers taking advantage of the grant to outlying suburbs like Cranbourne or Craigieburn, and not everyone starting out wants that.

If you choose to live way out in newly developing estates where supporting infrastructure can take years to eventuate, you have to question what are you really getting for your money? Perhaps better value can be found by looking closer in. More and more people are choosing new apartment style living because they can immediately access established infrastructure, including shopping, restaurants and entertainment, good roads, trains, trams and bike tracks. All of this you as a tax payer have already paid for.

So what do we expect in the market?

Following a nice break above 5100 points in March 2013, as at the time of writing this week the market was again trading back above this level. It is important to remember that this is a critical point historically, being just above important prior highs of 5048.6 points in April 2010 and 5069.5 points in April 2011, following which the market experienced falls of 17.0 and 24.4 percent respectively. The difference between now and what we saw back then is, in my opinion, the way the market unfolded in the lead-up to the prior falls. What we saw at those times was a much higher level of volatility, whereas in recent months the market has moved into a nice uptrend and has been much more orderly, despite the resources sector weighing on sentiment. Current market moves continue to give me confidence in my target for the next high between 5200 and 5400, which bodes well for investors and the longer term market direction.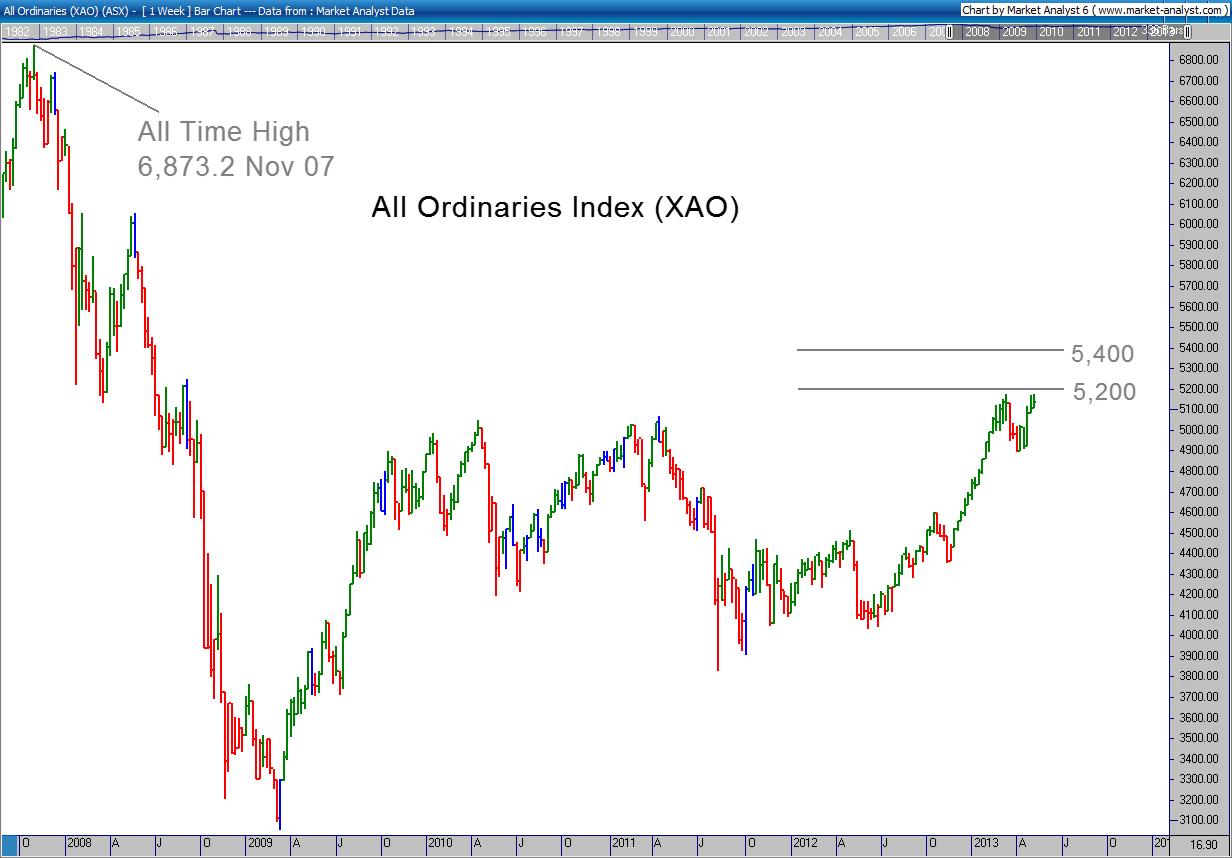 Click here to see the image in full size
Like Wealth Within on
Facebook
or follow us on twitter
@wealthwithin
Until next time
Good luck and profitable trading
Dale Gillham
Chief Analyst