All Ords Report 19/06/2013
It doesn't take Einstein to work out how allowing donations to political parties can influence government policy, however the money to fund our political system, which seems to be ever increasing, has to come from somewhere. Whether or not you believe that our governments should cost what they do is for another discussion as there is a big debate to be had around this issue. What is important for all Australians to decide right now is whether or not governments ought to be permitted to accept political donations.

Consider the political process in the US as an example of where this occurs and in my opinion has gone completely wrong. The saying 'money is power' couldn't be more true there and we have seen the ramifications of what happens to an economy when this occurs. So should Australia continue to allow this practice here when we have already seen examples where financial muscle outweighs the interests of ordinary Australians?

I don't think so and this is why changes to the current legislation are important, even if they don't currently go all the way to addressing the issue as just getting people talking about 'one vote one dollar' means we are heading in the right direction. This concept of making votes count certainly got my attention, however, what I don't agree with is back dating the payments to political parties based on past votes.


So what do we expect in the market?

This week the Australian market has rebounded from the decline of the last few weeks where the market reached a low of 4650. This was lower than my expectations of the market finding support around 4750 however in relation to time, the market turned after 4 weeks down which is typical following a bullish run.

Now that we have confirmed a new low and buyers have returned to the market, I am expecting we will see the All Ords continue to climb higher to between 4900 and 5000. Both of these levels represent resistance to a further rise. If the market breaks through my first target of 4900 then it is very likely it will continue towards the 5000 mark. If the market does remain bullish over coming weeks a number of opportunities are likely to unfold. Traders and investors would be wise to keep an eye on those stocks that are close to presenting entries.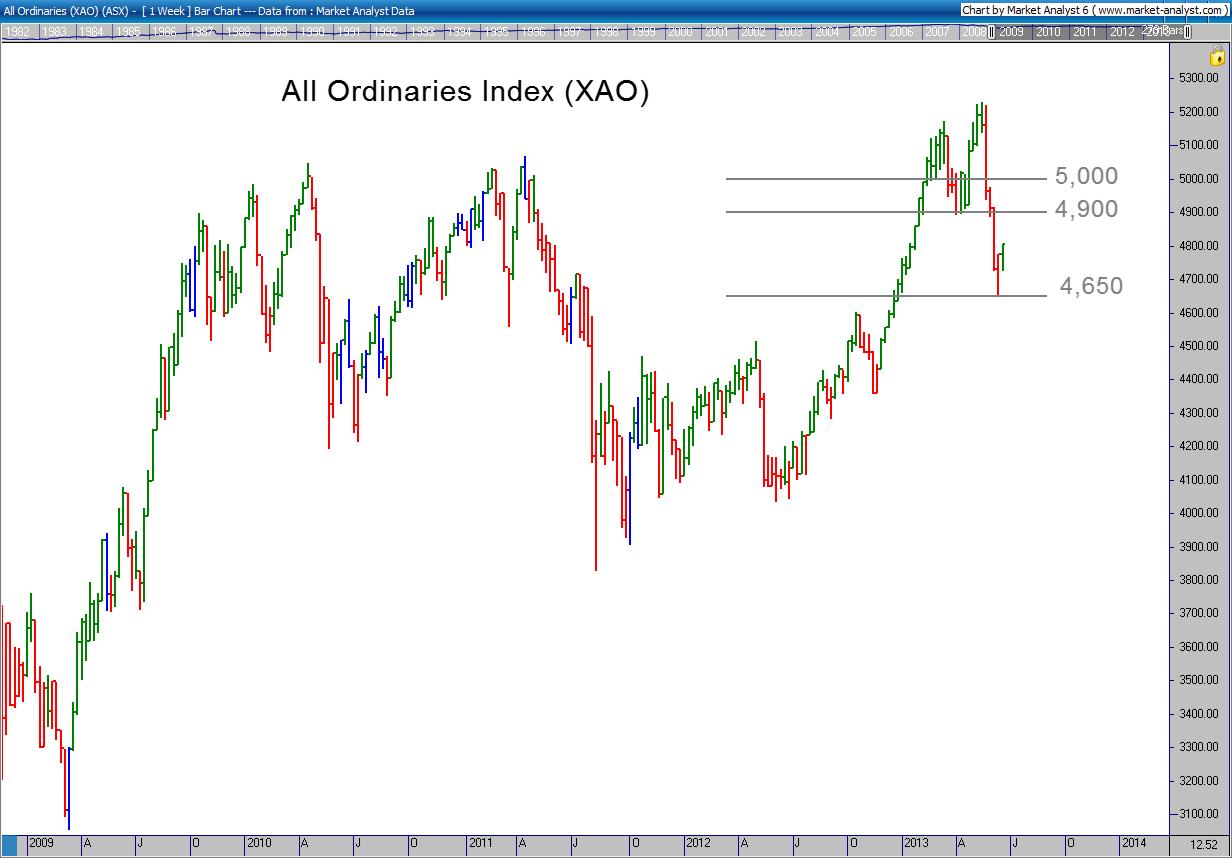 Click here to see the image in full size
Like Wealth Within on
Facebook
or follow us on twitter
@wealthwithin
Until next time
Good luck and profitable trading
Dale Gillham
Chief Analyst