All Ords Report 06/11/2013
When it comes to making an investment decision there are two overriding and crucial factors that you must consider before you sign on the dotted line. Firstly, you must ensure you are dealing with a reputable company and/or representative. Secondly you must fully understand the implications of a potential investment. That is, it's important you fully understand the product/service you are getting involved in and the potential risks to your current circumstances.

Finding, out whether the company you are dealing with is legitimate and not a 'fly-by-nighter' is relatively easy to do. Check the credentials of the company. Do they have an Australian Financial Services License (AFSL)? If not then by law the company is not permitted to deal in a financial product nor provide financial product advice to clients. Does the company have a long history of providing its product or services? If the answer is no to both of these questions, alarm bells should start to ring. We now live in the information age and it's called this for a reason. Nowadays, you can jump on Google and research the company you are dealing with to ensure it is reliable.

I find even fewer people take into consideration the potential risks posed on their lifestyle if an investment goes belly-up. I have a saying and that is 'hope for the best and plan for the worst'. All successful investors will tell you that they are acutely aware of the downside risk to any investment before they hand over a cent. You should know your downside risk as well. Further, if something does go wrong will you be able to brush yourself off and keep going or could it spell financial disaster? The latter is another reason to steer clear.

So what do we expect in the market?

The Australian share market has at the time of writing (Wednesday) gained more ground this week, currently closing above 5400 points and on track to continue to my next lower level target of 5,500 points. The Reserve Bank's decision this week to keep interest rates on hold has for now subdued overseas investors from pulling the plug on Australian assets.

Remember that successful investing is about making informed decisions based on solid research and analysis. Most people tend to base an investment decision on a hot tip or because it 'sounds good' and this is generally to their detriment. The key to becoming a successful investor therefore is to educate yourself on how specific investments work. Test the waters and you will find some investment methods suit your lifestyle and personality while others may not. Become familiar with those through which you achieve the best results and you have the makings of a superior investment plan.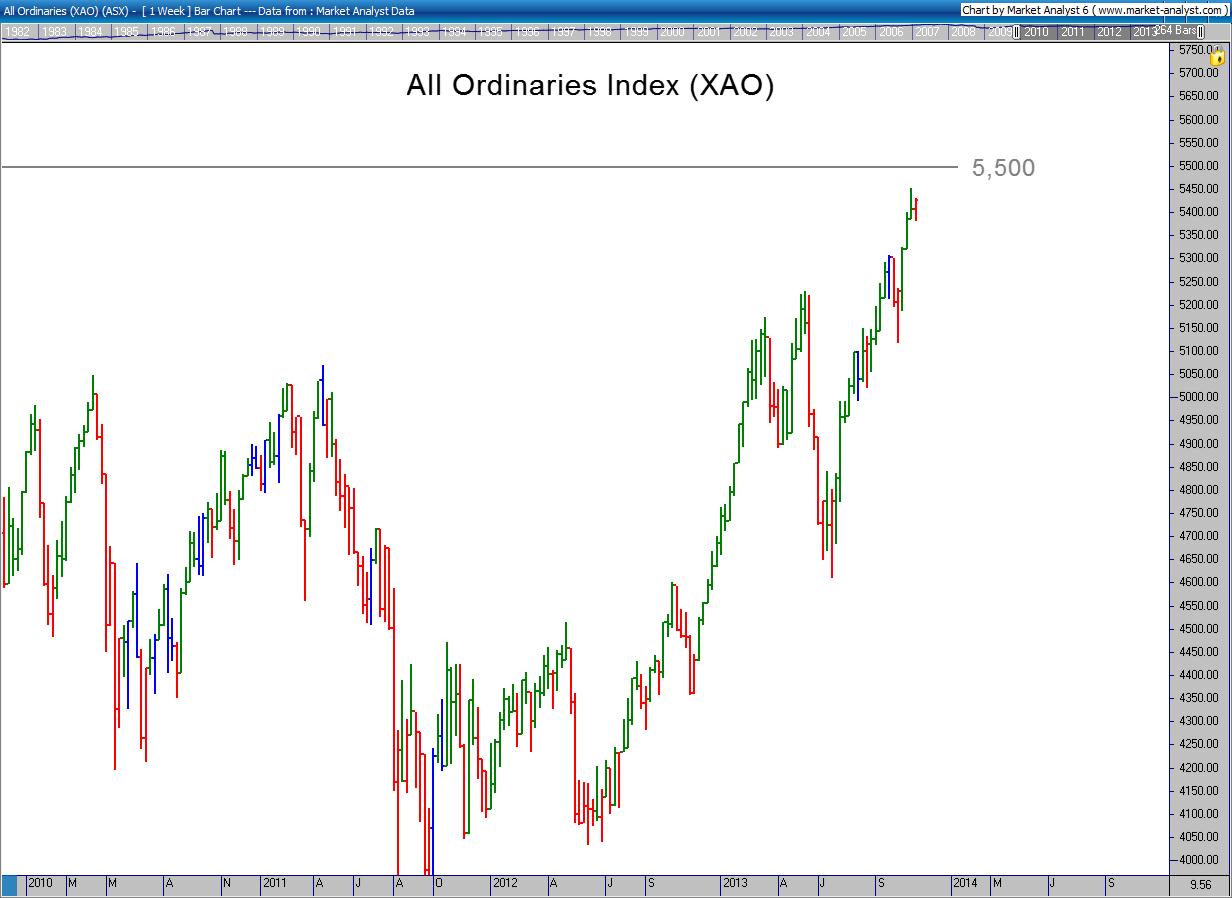 Click here to see the image in full size