All Ords Report 03/06/2014
The reality for most Australians is that we are likely to continue to work harder and remain in the workforce longer just to fulfill the great Australian dream of owning our homes, putting children through quality education and building sufficient wealth to support ourselves in retirement. Sounds daunting? Well it doesn't need to be so.

Firstly, let's consider how things have changed compared to say around 20 years ago. History shows that Australians borrowed $95,000 on average in 1996 to buy their first home, whereas today we are borrowing at least three times that, with the average now around $300,000. You might say this makes sense as we know that property prices rise, and so borrowings will too, however compare this to growth in average wages over the same time and we find the increase is only double. What this shows is that you are likely to be behind the eight ball before you even start, and I believe the gap between wages growth and borrowings is only likely to widen, but there is something you can do about it.

Rather than only looking at how to make your current income go further to pay down debt quicker, consider how your wealth building can be fast tracked. As an example, with just an extra $154 a week, at around 7.0% per annum, you can create around an additional $350,000 in retirement over the next 20 years. Of course it is not just the extra amount that is important, the sooner you start the more likely you are to succeed as your investment also needs time to grow.

So what do we expect in the market?

Last week ended with a nice recovery, and although the All Ordinaries Index didn't quite break through the 5487 point level as previously identified, it did take this level out on Monday, with a further rise to 5520 points on Wednesday. What is interesting is how the trading range for the past five trading sessions has become much smaller than the average, which means that the volatility has dropped. Now lower volatility in a rising market can indicate a turn is getting closer, however, in taking all analysis into consideration, the way the market is moving indicates a further rise overall is still likely to unfold before a major turn. That said we could still see a short retest of the 5450 point level. More recently we have seen a switch in the market to some of the previously underperforming sectors such as the Energy and Industrials sectors.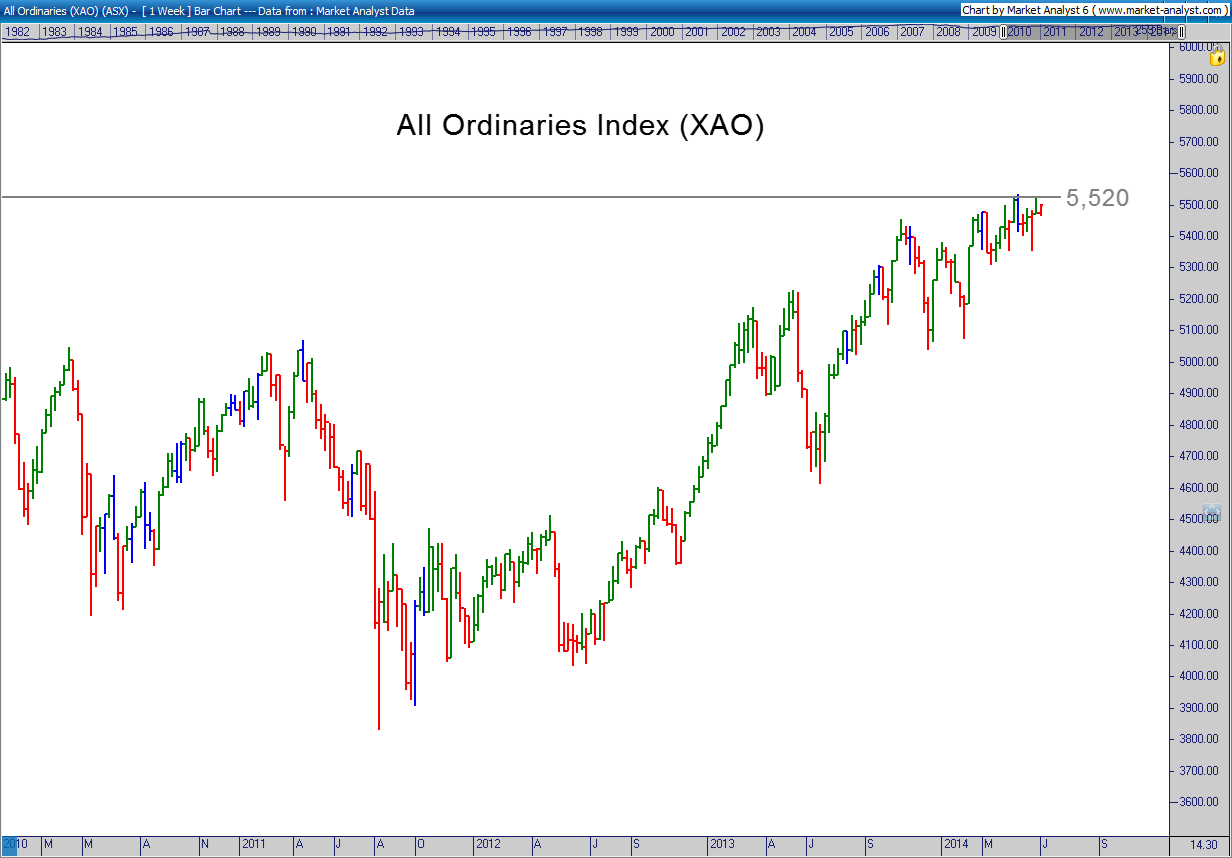 Click here to see the image in full size