All Ords Report 12/08/2014
With a rising Australian share market you may expect that shareholders would be satisfied with the activities of listed company boards. However, for a number of companies on the Australian Securities Exchange (ASX) this is clearly not the case. So why is this?

Worley Parsons (WOR) is one company facing a multimillion dollar Class Action for allegedly misleading investors. The case has arisen just one month after a previous case against WOR was thrown out of the Supreme Court of Victoria on a legal technicality. Other companies involved in recent legal action include Newcrest Mining, Leighton Holdings and QBE Insurance Group.

Class Actions against listed Australian companies occur when large numbers of shareholders believe they have a right to compensation, and this is where there really is strength in numbers. When Class Actions are filed with the courts, other shareholders are then given the chance to participate in making the claim.

As a shareholder, if you decide to participant in one of these class actions, you need to be aware that listed companies will generally have insurance cover against legal action. In some cases the insurers may recommend that a settlement be agreed to, between the company they insure and the law firm representing shareholders, for a fixed sum. This limits the insurer's risk in the event the case proceeds in court, where the payout is unknown. My concern for shareholders is that a settlement may result in less compensation than would otherwise be received, however, you also need to consider that it may also mean a 'bird in the hand'.

So what do we expect in the market?

Just under two weeks ago, the Australian share market broke through the all-important 5600 point level before sentiment quickly changed once more with short term profit takers moving in to sell off stocks. This downward push saw the market close at 5529 points last Friday.

This down move was in reaction to overseas markets, which can occur when a number of economic or political events are unfolding at the one time. Last week, concerns rose about Argentina defaulting on its debts, and Portugal's debt woes surfaced again. Add to this, Russian sanctions, and the war in the Middle East, and you can appreciate the reason for the recent decline.

Looking at my chart, this decline currently appears as a normal reaction following any breakout through an important resistance level. Given this, investors need to allow the market time to settle.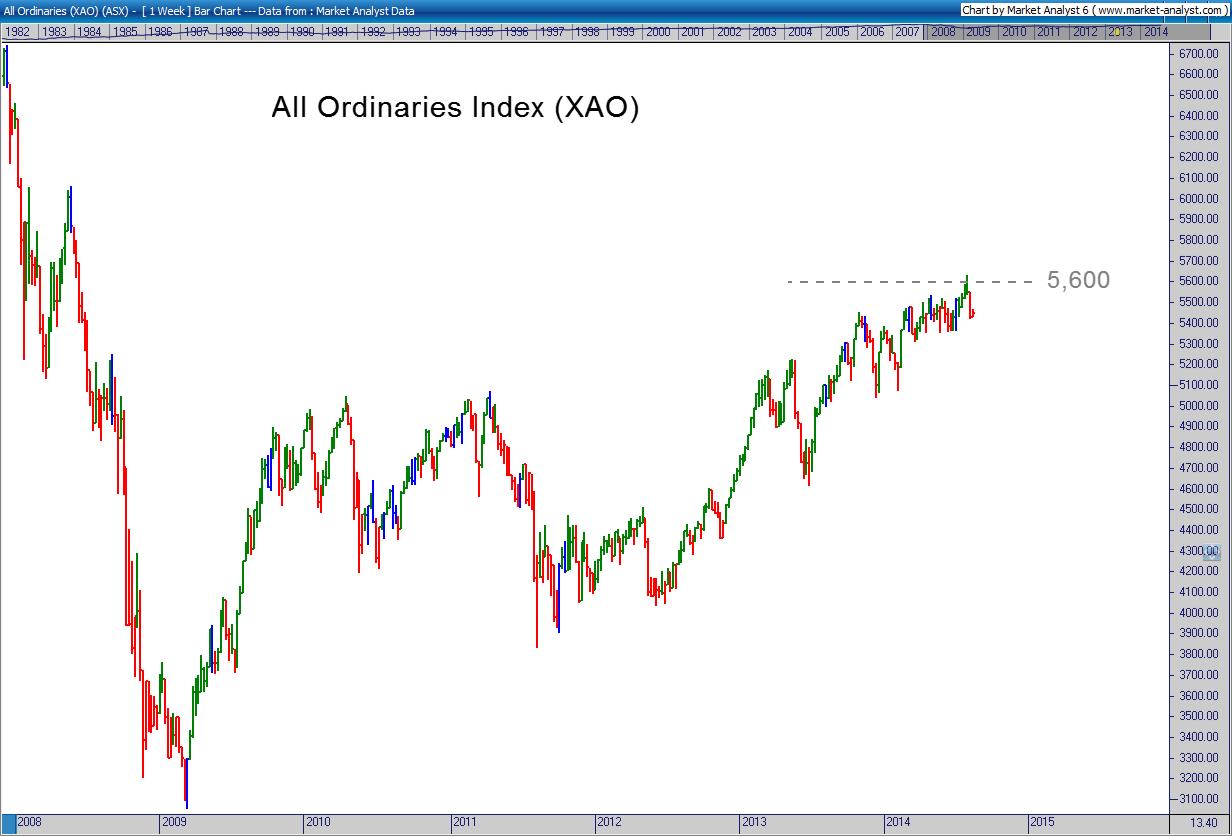 Click here to see the image in full size