All Ords Report 23/09/2014
One of my early mentors recently asked me to speak on the secrets to share market success for the Geelong Central Rotary Club on the 14th October. Besides my excitement about being able to speak in my home town, the topic was also very exciting to me.

Investing simply and profitably in order to have a good lifestyle is something many may aspire to achieve, however statistics indicate that few actually do. When I first heard this many years ago I wanted to know why so few achieve success and how I could help change it. After countless hours observing successful investors, along with those who tried and failed, what I discovered really surprised me. One of my findings I will share with you now.

Those who were successful had a plan, and those who failed didn't. Investing is about managing risk and those who failed had a tendency to make decisions based on a knee-jerk reaction to news and information. Their way of investing was in complete contrast to the successful investors. Investing greats such as Warren Buffett advises to do the exact opposite of the masses, meaning get the knowledge and follow a plan.

So the secret I will talk about next month for Rotary is that research has shown me how time and again that long term success requires a strategy, complete with a step by step approach to making decisions and managing risk.

So what do we expect in the market?

This week the market has continued to fall, with sellers dominating, pushing the all ordinaries index below 5400 points to as low as 5357 points. This is the first time the market has been around this level since mid-June. History shows how the Australian share market typically falls for between four and six weeks into its yearly low before finding support. Since the peak in August, the market has only fallen for a period of four weeks and therefore I believe the next one to two weeks could see the market continue slightly lower before buyers return to take advantage of cheaper prices. This decline does not change my 2014 target of between 5800 to 6000 points for our market, however, it does signal a time to exercise a little more caution.

Interestingly, lower share prices have seen the Price to Earnings ratio (PE) for many companies also fall. Currently the market average is at around 15, well below the level where our market may typically correct. Stocks in sectors such as Materials, Retail and Financials are moving into undervalued territory and suggesting there is some good buying to come.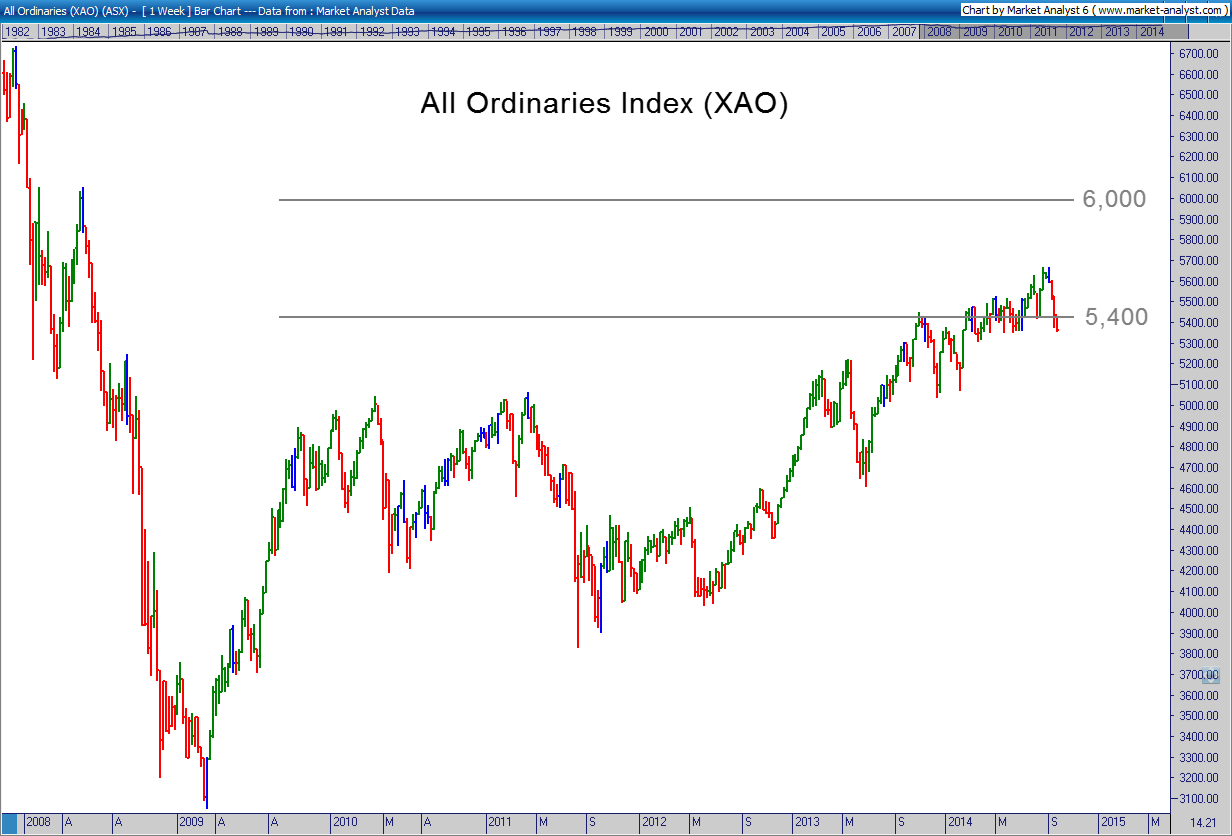 Click here to see the image in full size