All Ords Report 31/03/2015
It's no secret that Energy stocks have been falling, and for anyone still holding them, and sitting on a loss, the experience may be pretty scary, particularly if you don't know what to do about it.

The reality is that no one has a crystal ball when it comes to the share market. The only thing you can decide is when to buy, when to sell, and how you will manage risk. When risk increases from an acceptable level to high, which occurred for Santos Limited (STO) late last year, it was time to sell. Santos Limited (STO), which has interests in oil and gas, has recently fallen by around 50 per cent from the August high.

When a stock falls fast like STO has, having a stop loss can be your saviour to manage risk. Your alternative is to not set a stop loss, but then how do you know what risk you are taking when you invest? And, what will you do when you are lying there at night worried about your money, with no strategy to manage it?

A fall of 50 per cent would mean that the share price needs to rise by around 100 per cent just to break even. What are the chances of this happening in a few months, or years, for most shares?

Remember that it's not what you make, but how much you do not lose that is important in the long run. With that in mind always set a stop loss for every investment decision you make, regardless of the amount you invest. This means deciding how much you are prepared to risk with each investment and selling when the stock falls through that level. Your stop loss can be based on a percentage from the buy price, or if you have the knowledge, it may be an important price level that you have found by studying the stock's price history.

Some investors mistakenly believe that only traders set stop losses, however savvy investors set them too. Those who want to hold stocks over the medium to longer term mistakenly believe that they would be whipped in and out of their stocks if they set a stop loss. However, with the knowledge you can work out the right stop to suit your investing time frame. This allows you to be in stocks longer while still having a way of preserving your capital and managing your risk.

Your choices now, if you didn't set a stop loss for stocks like STO, are more limited than a few months ago, however, you could decide to sell now, cut your losses and learn from your mistake. Alternatively, you could hold in the hope that STO may recover to around $10.00, however the risk exists for a further fall to around $5.60. This may be too hard a choice for some to make. Whatever you decide, take a good look at your other stocks and be prepared to make better decisions about those.

To find out more about setting a stop loss, please refer to my book "How to beat the managed funds by 20%".

So what do we expect in the market?

The Australian share market closed strongly above 5400 points the week prior to last, and was looking quite solid at the close, however last week you will have noticed how the mood changed quickly to quite somber. The All Ordinaries (XAO) index pulled back in response to again test the support zone just below between around 5200 to 5300 points.

Given the strength of this zone there was a reasonable probability that the market may pull back to test this level again, however I didn't expect the move to occur as quickly as it did. The market closed down at around 5280 points on Friday, and was followed by a strong start yesterday before many stocks came back later in the day to fill price gaps, and so gave up much of the daily gains.

I think that Warren Buffett summed it up well when he called the market a "drunken psycho". He was talking about the herd mentality, and when there is plenty of news around people merely follow the herd.

This month, news resurfaced about a potential Greek default and an exit from the Euro, which caused market jitters. Then there was talk about European quantitative easing, which saw markets rebound, and this is when our market broke back above the all-important 5400 point level once again.

Last week, Resources and in particular, Energy stocks, were feeling most of the pinch. Portfolios heavily weighted to resources stocks are likely to be down strongly for the year. Banks were also softer, on talk about a bank profit squeeze in 2015, and possibly around the decision to be made after March 2015 about a change to bank capital requirements.

As the US moves into reporting season, and as we head towards Chinese New Year in February, I am watching for the market to find support and settle between 5200 and 5300 points.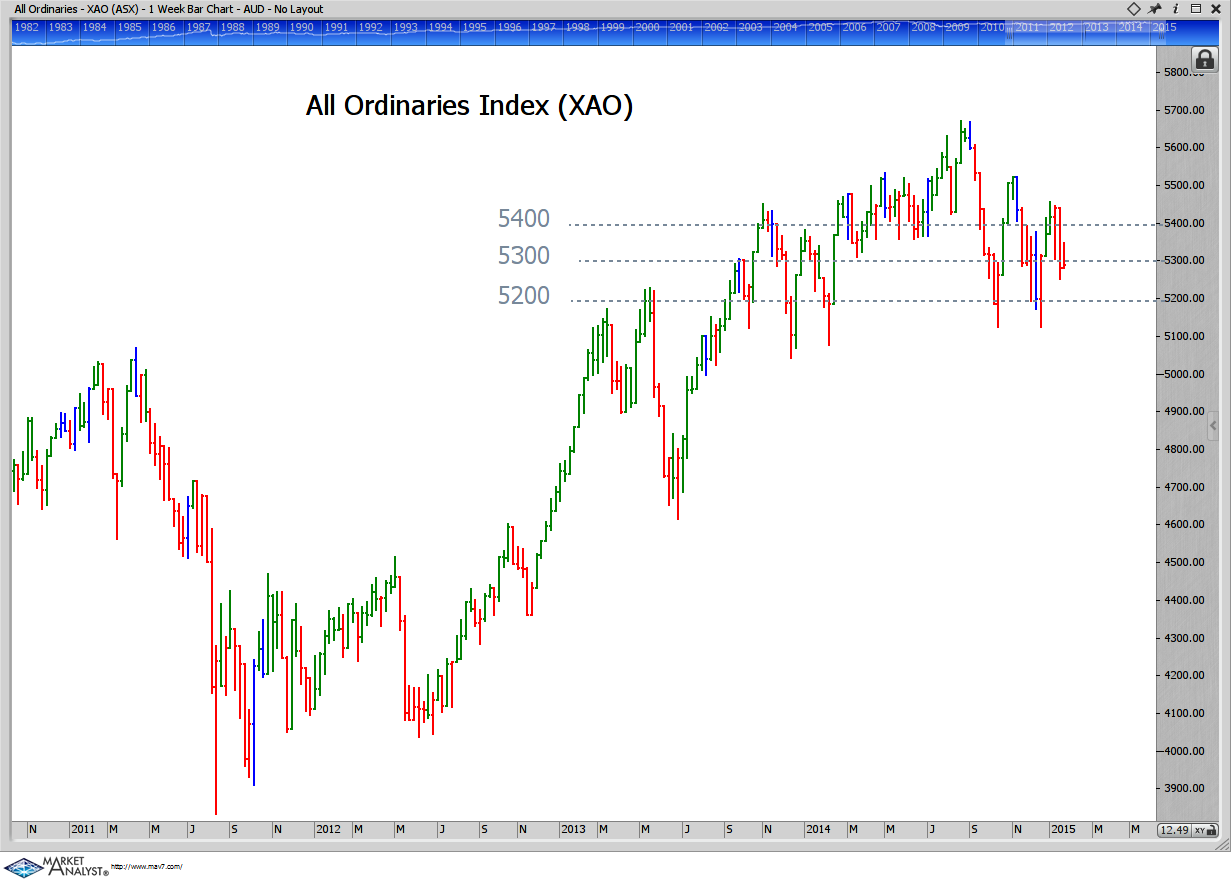 Click here to see the image in full size