All Ords Report 17/03/2015
At the moment, we are watching a public debate unfold about first home buyers being allowed to access their superannuation, thanks to a proposal by our Treasurer Joe Hockey. The question I always ask when politicians come up with ideas to change policy, particularly around our superannuation, is who is going to benefit most?

Firstly, let's not forget what our super is there for. It's there to help all Australians to fund their own retirement. You may recall that back in 1992, the Keating government introduced compulsory super to address the major demographic shift forecast to occur in Australia's population over the coming decades. Without super, an aging population would result in the pension placing a major strain on the Australian economy.

For all Australians, superannuation is the easiest savings plan we'll ever have, given that it's essentially forced savings. Your employer regularly pays the equivalent of 9.5 per cent of your salary into your superfund, which means that you don't ever miss the money. Also, we know that super is currently considered the most tax effective way for most Australians to save for their retirement, given the low tax rate applied to earnings. I know you may be wondering, will your super be enough?

The simple reality is that many Australians will not have a sufficient super balance to live a comfortable life in retirement. So what else can you do? Well, the answer is that super ought not be your only plan to build wealth for your retirement as it doesn't cover you for the 'what-ifs'. Let's not forget that governments are likely to continue to tinker with super laws and so you have to wonder where will future changes leave you?

One example of a more recent change is a lift in the retirement age. Many say that it could just keep rising, which means that many who fail to plan properly and invest outside of super, are likely to have to work longer, even if you are ready to retire. The problem is, none of us have a crystal ball, and therefore we cannot predict what future governments will do, which is why I strongly believe that a proper retirement plan must include investing inside and outside of your super. If you know that you are unlikely to have enough to retire comfortably, research your options and do something about it.

Back to the housing affordability crisis. The argument for allowing first home buyers to dip into their super fails to look at the bigger picture, as punching a whole in your super balance early on will destroy the power of compounding, and therefore, your ability to save for your retirement. Einstein himself referred to compounding as the eighth wonder of the world, so this isn't new. Also, remember that taking money out of your superfund, if the government were to allow it, would break the third rule to your keys to wealth creation, which says leave your investments alone to grow.

The unfortunate reality is that I believe we have been lied to, as 'The great Australian dream' is not all it's stacked up to be. Buying your own home doesn't make you wealthy, you can do the numbers on that, but it sure makes the banks a lot of money. The government website, Money Smart has a number of different calculators to help you. And, let's not forget other vested interests, such as the developers, pumping out cheap housing on the outskirts, or in high rises, which are pitched at first home buyers. Many buy cheap and get poor quality, which is only likely to cost money down the track.

So, this Australian obsession, to own your own home is costing you more than you may have realised. Most end up paying most of the capital growth to the banks in interest. Given this, I believe that we ought to leave super alone, more fairly tax foreign property ownership, and teach young people the benefits of saving to invest in assets like shares and property versus buying their own home.

So what do we expect in the market?

The All Ordinaries index (XAO) took a dive last Monday below 5800 points, which is a move that I welcome. Then our market continued to fall midweek to 5763 points before moving up strongly on Thursday back above 5800 points.

Now, while my analysis indicates that overall the market is likely to continue to rise, I would like to see the XAO pull back further to really build momentum for a sustained rise. For those who regularly read my report, you will know that this level is between 5600 and 5700 points.

At the time of writing, the XAO had fallen away again from the 5800 point level, and therefore it will be a couple of days before we see confirmation of either support above 5800 points or the continuation of the recent decline. I believe it is more likely to be the latter and I continue to watch with interest, while still taking a cautious approach to the market, so as to always be prepared for market risk. I have set my next target for later in the year between 6200 and 6400 points.

This week, news out of China was mixed, and therefore, your job as the savvy investor is to ask, is this information important in the current climate? Considering the current state of the market here in Australia, and the social mood, which is not one of doom and gloom but instead a tone of cautious optimism, I don't believe so. However, negative Chinese news is something to keep an eye on as at times it has the potential to slow our market's rise.

According to business confidence data, it seems that the RBA's rate cut to 2.25 per cent has done little to lift business confidence in Australia, which comes as no surprise to me. A recent National Australia Bank (NAB) business survey points to below average levels of economic activity in Australia. In a previous report, I wrote that any cut to the cash rate now is likely to be premature, and is unlikely to be significant enough to really make a difference to economic activity. That said, the RBA has flagged a further cut in May, which is likely to be of the same order.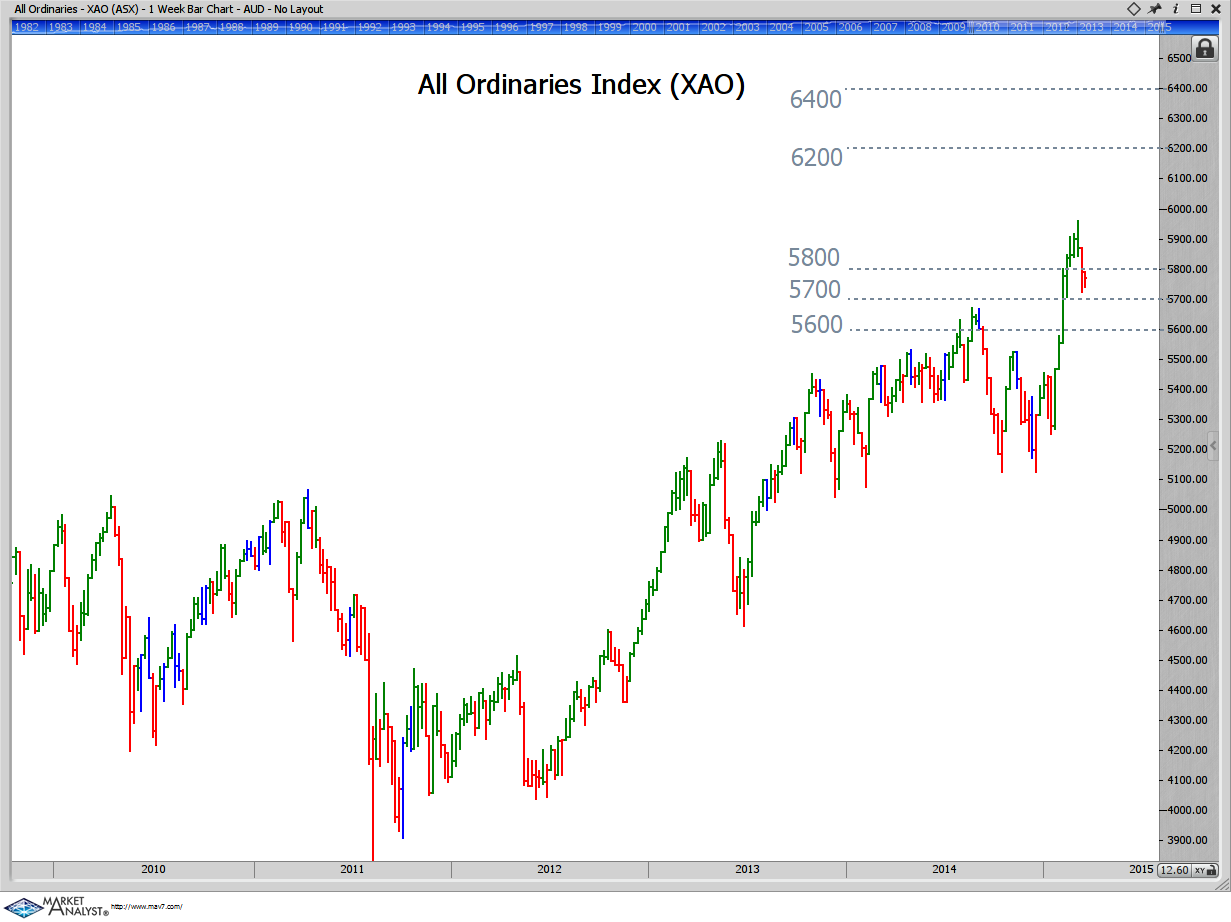 Click here to see the image in full size