All Ords Report 15 June 2017
This reporting season in Australia, analysts anticipated improved earnings. Why are you not surprised?

The simple answer is because you've paid attention to what I have shared about the market being in an "improved earnings" phase.

Only the educated see what's coming. The uneducated are often distracted by the politics and other highly emotive information.

Let me share with you the six phases of the market, in order, as follows:

Renewing confidence – at the bottom of the market, after a major financial collapse.
Improved earnings – a volatile period while companies are rebuilding. This is where we are now.
Rampant speculation – strong rises in shares. Most investors buy in late, accelerating the rise.
Abandonment of hope – the initial drop in a major correction after the top. Those "in-the-know" are exiting. Many investors believe shares are cheap. Those who espouse the "buy and hold" philosophy are telling you to "hold on".
Decreased earnings – company results confirm that the move down was real. Investors get caught, still hoping that the market will rise.
Distressed selling – those investors still hanging on abandon ship, and short sellers drive the market lower by borrowing shares from many of the managed funds designed to profit from a rise, only to exacerbate the decline.
So, armed with this information, ask yourself when are the riskier times to invest?

This is just one part of what you learn in our courses. It's such a powerful concept, and anyone who buys, or even holds, shares ought to understand the phase the market is in.

You can apply the phases to any market or stock chart?

I recall someone asking me at a workshop why the share they just bought had fallen heavily. The obvious answer was that the company had just released an announcement to the market and the big players didn't like it. But after listening to my presentation he wanted to know is it possible to see what is likely to occur ahead of the drop?

The simple answer is "yes".

Of course, there are times when a share may move in the opposite direction to what you might expect, however, looking at what phase the stock is in helps to explain the volatility in price.

For those who haven't yet studied our Short Course in Share Trading, or the Diploma of Share Trading and Investment, and are looking to get better educated on the market, watch a short video about people who have done our courses and profit from the share market.

Let's come back to company earnings.

Remember, when you finally hear analysts suggesting that overall earnings for the Australian market are likely to improve, it is another positive sign for investors, on top of the economic data that I mentioned in previous reports, which indicates that phase 3 is still to unfold.

By Friday we will have a really good idea as to how the Australian market is to fair this reporting season. However, as expected, we are seeing an improvement.

Given the analysis, I believe now's a good time to invest in a mix of good quality blue chip companies in the top 100.

What do we expect in the market?

The All Ordinaries Index (XAO) rose strongly this week to recover most of the decline in January. At the time of writing the market was trading back above 5860 points.

The market decline over recent weeks was less in value than is typical for such a retracement, however, the number of weeks the market fell fits with what is typical between significant corrections. As the market is already recovering, it appears quite bullish. I have been waiting for that euphoric rise and I still don't believe we are there yet.

Part of the reason for the rise is likely to be improved results during the US reporting season, and flowing through to generally better than expected results in Australia. More than 68% of companies have reported and demonstrated profits are up relative to last year, with a high percentage achieving at or above analyst forecasts. Given this, the XAO is likely to continue to rise this coming week.

I am now waiting for the market to move towards the April 2015 high of 5963 before prices soften for a couple of weeks. I mentioned in a previous report that I would have liked to see the market come back towards the end of the month before it pushes higher. Given this hasn't occurred the market may break the 2015 high and take a breather at around 6150 points, instead of heading straight into our target zone between 6200 and 6400 points.

If you hold shares in the market, it is important to plan for potential downside, while hoping the market may head straight up from here.

The Reserve Bank of Australia (RBA) now predicts growth in Australia of around 3 per cent, up from 2.5 per cent in previous policy announcements.

As an indication of the financial health of our economy, the Commonwealth Bank of Australia (CBA) reported this week. The market saw the overall company result as good. CBA ranks high in the top quartile of international banks for CET1. This is one part of the equation that determines a bank's funding risk.

Dale Gillham is Chief Analyst at Wealth Within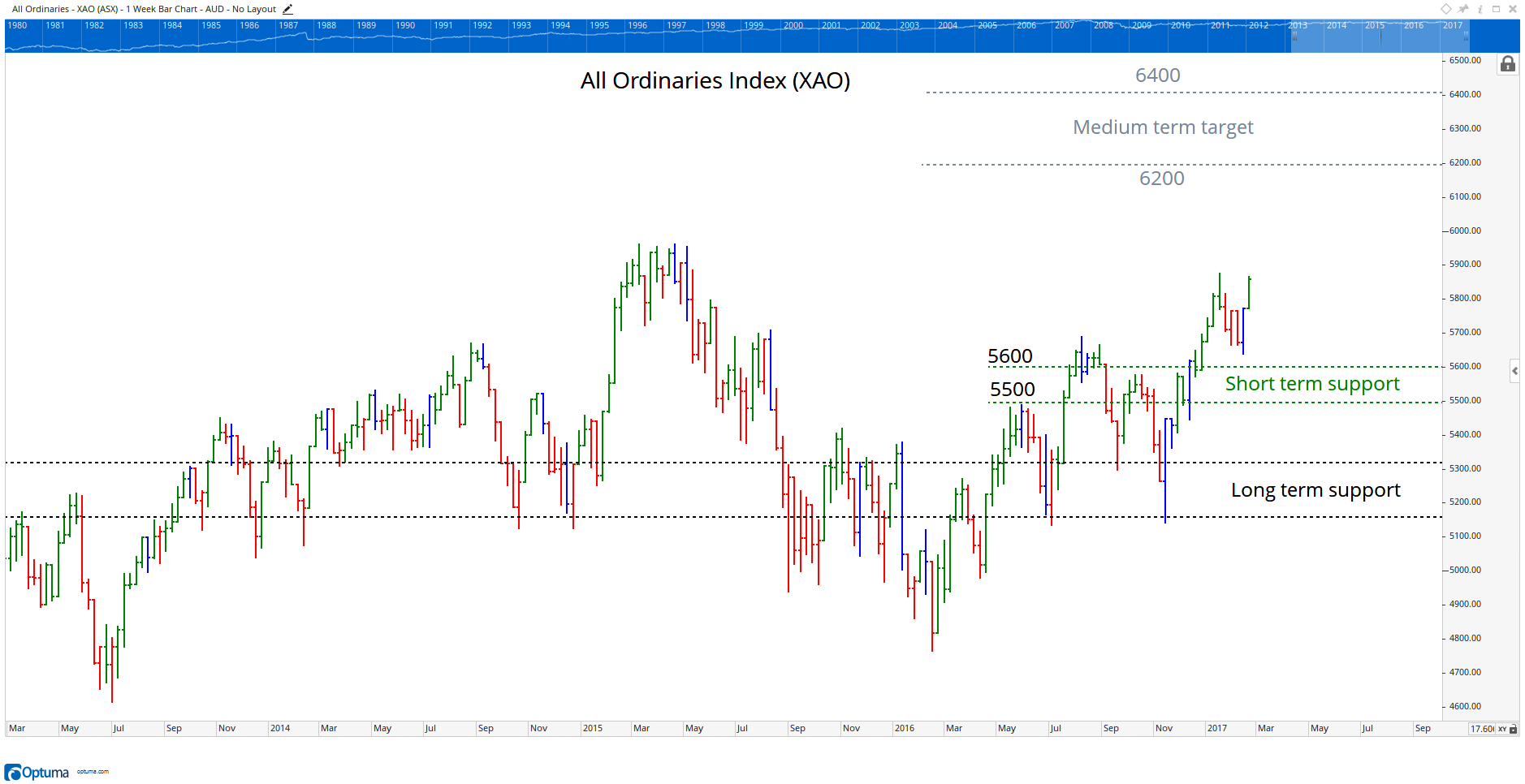 Click here to see the image in full size