All Ords Report 15 March 2017
There's no doubt, some defensive stocks have taken a beating this reporting season in Australia. Investors are wise to weigh up whether to let some stocks go until they rise again. But is that all you need to consider?

Defensive stocks are generally large companies, paying yields close to or slightly below market average, with a good track record of growth at levels typical for their industry.

Some of the bigger Health Care stocks fit this bill. For example, CSL Limited, (CSL), Cochlear Limited (COH), Sonic Healthcare Limited (SHL), and Ramsay Health Care Limited (RHC), which have performed well over time.

Despite a largely upbeat report last week the chart of RHC isn't looking good. News that CEO Chris Rex will be retiring from the company may have added to volatility. However, unless you have the opportunity to look at a price chart, you may not have realised that the biggest move down wasn't due to reporting season jitters, RHC's share price had been falling since September 2016, and provided signals to exit shortly after.

In fact, the whole sector had a dramatic fall, including the heavy-weight in the sector, CSL, which recently bucked the trend and rose.

The cause for the broader decline was the movement of funds by the big players away from property and health into mining and energy. Markets can be quite fickle, especially in this period termed the "improving earnings" phase, as I have mentioned on a number of occasions.

I have a couple of important levels to share with you in regards to RHC's share price:

Unless RHC trades back above $72.50 in the coming weeks there is a real risk that downward momentum may drive the price lower.
RHC must hold above $65.34 to recover quickly.
A trade below $65.34 may be followed by a further decline to February 2016 lows, at around $55.40.
Investors will often hold on for a dividend, only to see the shares fall by more than this amount. But is it really worth it? I believe the fall in RHC's share price since September illustrates the importance of having a plan.

By this I mean rules to buy and sell any share you purchase. But some people treat shares like a marriage; holding on for better or for worse. When you buy shares, you didn't walk down the aisle and make a promise to hold onto the shares "till death do us part". So why do people apply this thinking?

While there can be highs and lows in any marriage, and the plan is to hopefully grow as you navigate through them, holding onto shares through major declines, without a plan, isn't good for your psychological or financial bank accounts.

Learn how to create the right plan that builds both your psychological and financial bank accounts. Find out about the Short Course in Share Trading.

What do we expect in the market?

This week, the market continued to pull back to test support for the next rise towards the 2015 high of 5963.5 points in April 2015.

It is incredible that it has been almost two years since the market was trading at this level. Therefore, a couple of weeks down on the market is a small amount of time to wait for the rise likely to follow.

The current selling activity on the market indicates the mixed view about Australian company prospects, from an earnings growth perspective, moving forward. However, as mentioned in previous reports, the data this season actually reflects much better performance than most analysts anticipated. Over the past few years, analyst consensus on company reporting has largely been unbalanced.

The XAO fell to a low of 5724 points yesterday and then rose strongly today above 5800 points. It is good to see the market continues to trade above the strong support level between 5500 and 5600 points.

Overall, the market remains bullish and it's normal to see a strong rise followed by a short sell-off, as is currently unfolding.

The way the market has unfolded this year still indicates that the XAO is likely to rise above the 2015 high of 5963.5 points over the coming months. I continue to watch the market for confirmation of the next rise, while being aware that it may come back further before this move commences.

It is interesting that the US market experienced a strong rise following their reporting season, however, further talk that the US Federal Reserve (FED) may raise rates in either March or April may soon dampen the rise. I would like to see the FED wait to make its move until April or May.

Even announcements by Donald Trump are unlikely to correct the next slow down. The Dow Jones is trading just shy of our short term target at around 21350 points.

Dale Gillham is Chief Analyst at Wealth Within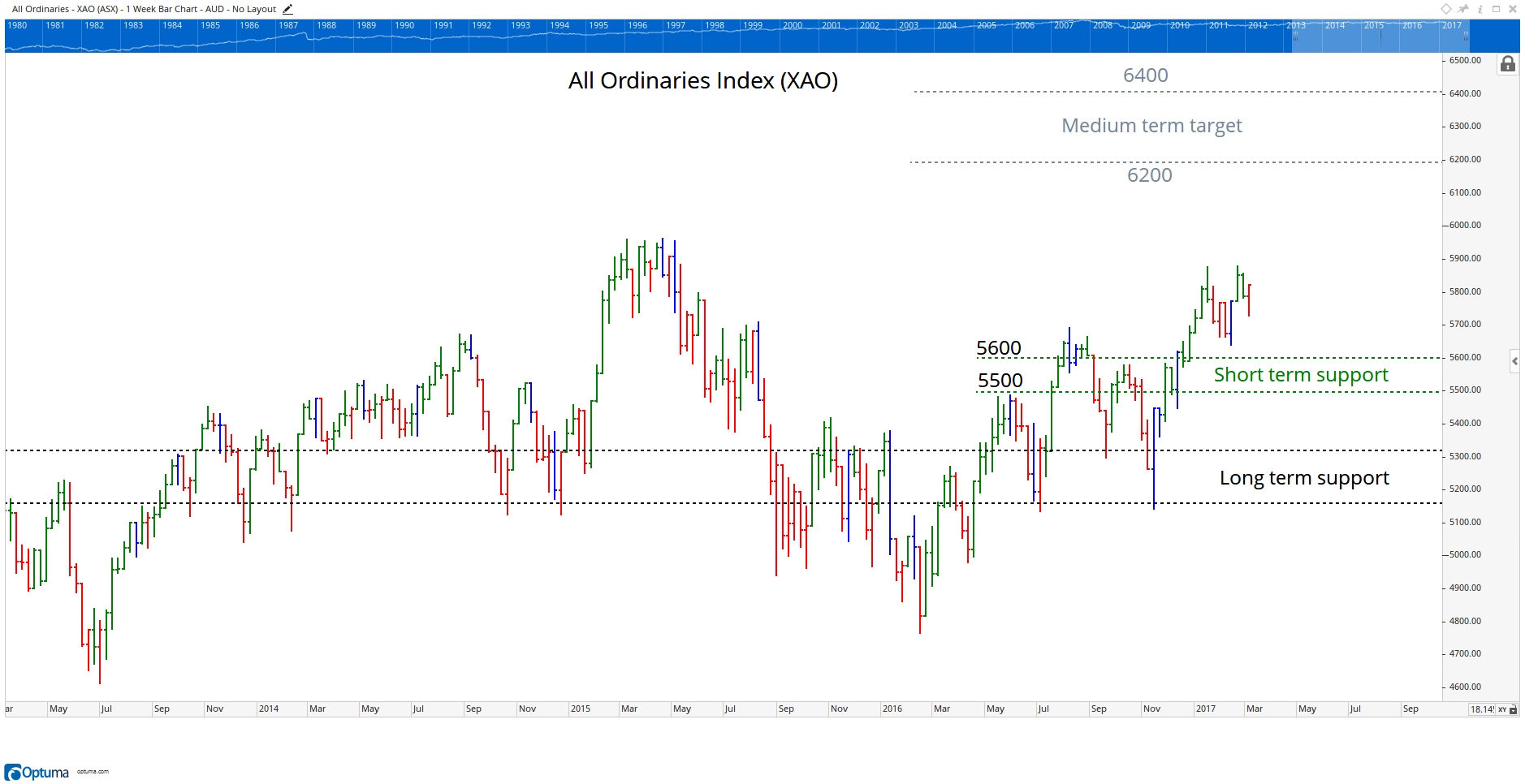 Click here to see the image in full size