All Ords Report 04 October 2017
Let me ask you, what type of investor do you think you are?

Two professors from Finland's University of Oulu, Andrew Conlin and Jouko Miettunen conducted some research to identify specific traits that people might have and compared these to what type of shares they purchased and the results were interesting. Their conclusions were that:

Extravagant people favour large-cap growth stocks;
Impulsive people favour small-cap growth stocks;
Sentimental people favour small-cap value stocks; and
Social people favour small-cap stocks, period (with a modest value tilt).
I have been supporting and teaching investors for decades and from my experience, these professors pretty much nailed it.

So let's put this into context: extravagant means the propensity to spend or splurge; impulsive means the willingness to make decisions based on incomplete information; sentimental means the tendency to be affected by emotional stimuli, and sociability means people tend to join groups and feel attached to others.

Now it may surprise you, but none of these are good traits to have when it comes to investing.

Making money from shares is all about deciding what the goal or risk profile of your portfolio is, and then matching the stocks you buy to the profile.

You also require an unemotional process to follow that allows you to filter the stocks that match your risk profile.

I have helped thousands of people by giving them a process to follow and most importantly, providing trading rules in our courses that allow the investor to take the emotion out of the decision making.

Sadly, following the herd or being sentimental just does not cut it when trying to make money, and neither does buying a stock just because you like to splurge.

What do we expect in the market?

Last week it appeared that the market was finally moving in a direction, although not very fast, mind you, but in a direction nonetheless. On review, the market fell by 0.56 per cent into the middle of the week before recovering to close just above where it opened.

At the time of the dip in value it was probable that the All Ordinaries Index would slip below 5,670 points (the level of the 8 June 2017 low), over the next few weeks. That said, it is my expectation that any subsequent fall would only last a few weeks and be no greater than 5 per cent, which is nothing to be concerned about as it is part of the 'normal' ebb and flow of our market.

However, the upside of all of this is that once again the market reversed to turn back into its protracted sideways move, which means that if we do see the market move lower, it will be short-lived.

It was only yesterday someone reminded me of the four 'P's' that I teach traders, persistence, patience and above all planning, which leads to profits! With this in mind, I suggest everyone be patient and plan to take advantage of the next bull run. Most investors will chase the bull market by waiting until it is well underway, while smart investors know that proper planning leads to profits.

This week the RBA decided to leave the cash rate on hold, which has remained steady at 1.5 per cent for 14 months. RBA Governor Phil Lowe indicated that the cash rate is likely to remain on hold for sometime. That said, positive signs are emerging from the economy, however, it was also noted that a higher dollar would mean a slower improvement in the economy than forecasted.

Keep in mind that if the market trades above 5,836 points, then the probability that the market is breaking up out of the sideways move will increase.

Global news

This week the Dow Jones has continued to inch towards the Wealth Within Investment Team's short term target at around 23,000 points.

It is interesting how headlines capture the latest data and the market usually has a knee-jerk reaction, however, the devil is always in the detail and in the case of financial markets it's important to compare the commentary with the move on the chart, relative to previous data. This allows you to keep the day's change in perspective. So if you read about a big move on the US market, look at your chart before casting judgement as I often find that subsequent to a fall for a week or so at least one strong day up emerges to create a media frenzy.

Markets have been watching oil closely after comments from the Secretary-General of the Organisation of Petroleum Exporting Countries (OPEC) that compliance with the cut in oil output deal between OPEC and non-OPEC nations is extremely high, which is likely to support higher prices. It is interesting to see the oil price move towards important resistance at around $52/$53. A strong move above this level would indicate a further rise to follow in the short to medium term.

Looking to our Asian partners, Morningstar analysts see a structural change in demand from China as its economy matures and transitions toward less commodity-intensive economic growth, however, I still see good opportunities for commodity related stocks in the medium term.

Dale Gillham is Chief Analyst at Wealth Within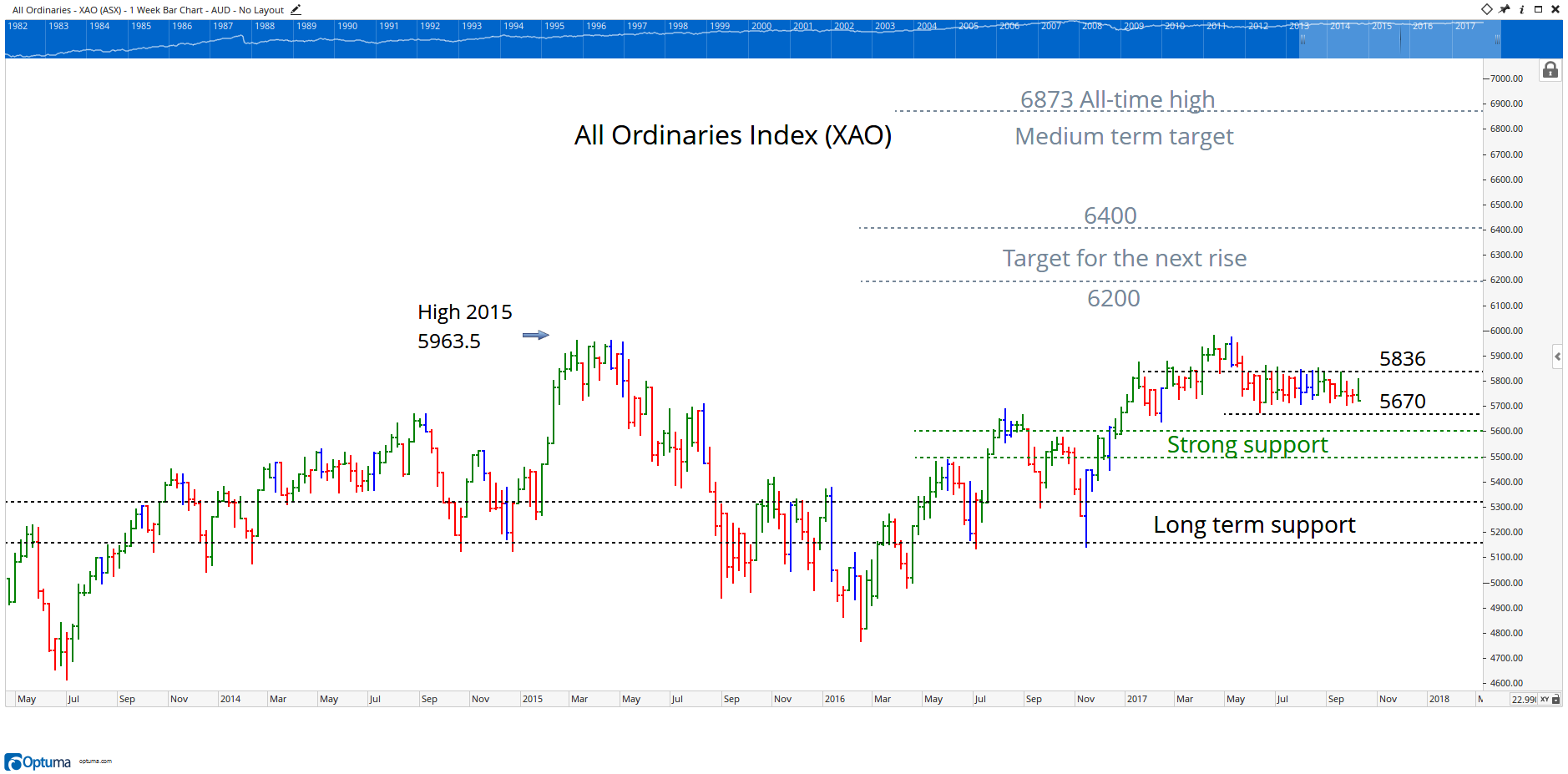 Click here to see the image in full size