All Ords Report 29/01/2009
Who's most at risk of losing their shirt in the share market? The answer isn't hard to work out when the latest data from one of the largest Australian brokers is indicating that their biggest growth area for new trading accounts is coming from people under the age of 35.

With house prices high and term deposit rates low, I'm not surprised to see this shift occurring. If you or your children are finding that saving for a deposit to buy into property is now a hard slog, it's understandable that you might look to the share market, which has a much lower barrier to entry, to help you get your money working harder.

While there are many reasons for you and your children to want to build wealth, save for a deposit, or generate an income from the share market, however statistically, the reality is that a large number of you are destined to repeat all of the mistakes of the past. The reason for this is that most who enter the share market do so without the right knowledge, well developed skills, and a trading mentor to help guide them through the pitfalls.

Knowing how many stocks to hold in your portfolio is one important area. You can learn my thoughts in a recent ASX article.

What this means is that most won't properly understand the risks they are taking, nor have a plan to manage them, which means that when it really counts, and the market turns against them, they are more likely to make emotional rather than logical decisions. Therefore, my message to the under 35s is, be much smarter than those who have walked this path before you, otherwise you are destined to repeat their mistakes, just as human nature dictates will occur.

Remember, there are only two things we can control when it comes to the share market, when we buy and when we sell, and therefore, it is essential to understand how to get this right. In all of my courses I give you rules that you can apply to trading the stocks of your choosing, and I will show you how to select suitable stocks.

As you determine your next step forward, here are my seven tips to get you on the right course:

Your biggest risk stems from a lack of knowledge, skill, and experience in the market. The best way to minimise your risk is to get educated before you trade, and recognise that what you pay now to learn is much less than the market will take from you if you don't. Remember that when the market is rising there is no urgency to get educated.
Know the risk you are taking at all times. Investing without a stop loss is high risk. A stop loss allows you to decide up front how much money you are willing to risk. It's not what you stand to make that is important, but what you do not lose.
Trading without a proper plan is gambling. We all know the saying "fail to plan and you plan to fail". I think Warren Buffet put it best when he said "Someone's sitting in the shade today because someone planted a tree a long time ago". Most traders I meet don't really know how to create a proper trading plan, however, this is critical to your success.
Never buy a stock just to get a dividend. Always buy for capital gain first and dividend second, as the dividend is the icing on the cake, not the cake itself.
Never take tips, no matter how tempting. Have your own watch list with ten to twenty stocks that you know like the back of your hand and develop your own strategies to trade them. Trading someone else's only increases your risk. So learn how to pick the right stocks and the right rules. One of my favourite sayings is give a man a fish and he can eat for a day, teach a man to fish and he can eat for life.
Never buy a stock because it appears cheap. Cheap does not mean a 'bargain' in the share market, and if a stock is falling in value, remember it can get a lot cheaper. Always buy quality shares, being the most liquid stocks on the market, which are rising.
Don't over-diversify your portfolio. Whilst it is true that diversification reduces risk, a portfolio that is over diversified (more than 12 stocks) will generally mirror the market. I generally suggest that most traders and investors have between 8 to 12 stocks in their portfolios.
So what do we expect in the market?

Following heavy selling on our market from May through to July, where the All Ordinaries Index (XAO) lost around 10 per cent, the market has over recent weeks formed a low before showing signs of support for a rise. After the low there was a secondary sell-off, however, it was great to see a reversal of direction on Tuesday last week, above important support at around 5500 points, which saw the market continue up towards the 5700 point level by Friday's close. However, this move up didn't occur without the usual period of heavy selling around the low.

Pressure on global markets over Greek woes was the cause for the initial move south, followed by a tidal wave of selling on international markets, surrounding concerns over the Chinese economy, and our market was not immune. The Chinese market fell heavily, however there was an expectation of a quick recovery in late July, but the sellers returned towards the end of the month and this spooked global markets. In addition, the US reporting season was well underway and there were growing concerns about company earnings falling behind. The week ending the 24th of July, our market finished very close to the bottom of its trading range at 5557 points.

What you will find, if you study the share market, is that following any fall the fear of what has occurred lingers in the minds of investors who don't have a strategy for managing their shares, and therefore if the market pulls back once again quite quickly, and news is still generally doom and gloom, there will be a further negative reaction. To those in the know, this is about the market trying to 'pad out' its low.

Educated investors are likely to have sold some shares as the market fell to reduce their risk and remove what you might call the 'dead wood' from their portfolios, so as to clear the way for better opportunities when the market eventually starts to rise.

Quite often when you see a second period of selling as occurred during the week ending 24th of July, while there is still fear in the market, this is an opportunity for the short sellers to test the market's resolve. If there is enough commitment from sellers at this time, and not enough from the buyers to counter the impact of the sell-off, the market can fall further. So, it is important to be prepared with a plan, in case the fall were to continue.

While the recent move off the low is a solid sign of the start of a recovery, given it appears to be about to confirm support from the 5400 and 5500 levels below, a strong rise late this week will provide greater confirmation that the low is in. My analysis indicates that the market is likely to continue to move up off the July low to around 5800 points before it meets the next level of resistance. A solid weekly close above this level will significantly shift the balance of the scales towards a continuation of the rise to my original target between 6200 and 6400 points this year.

In considering the downside, which one must always do, if the market were to pull back strongly back below 5450 points, being the middle of the support zone, my view on the market would change.

Dale Gillham is Chief Analyst at Wealth Within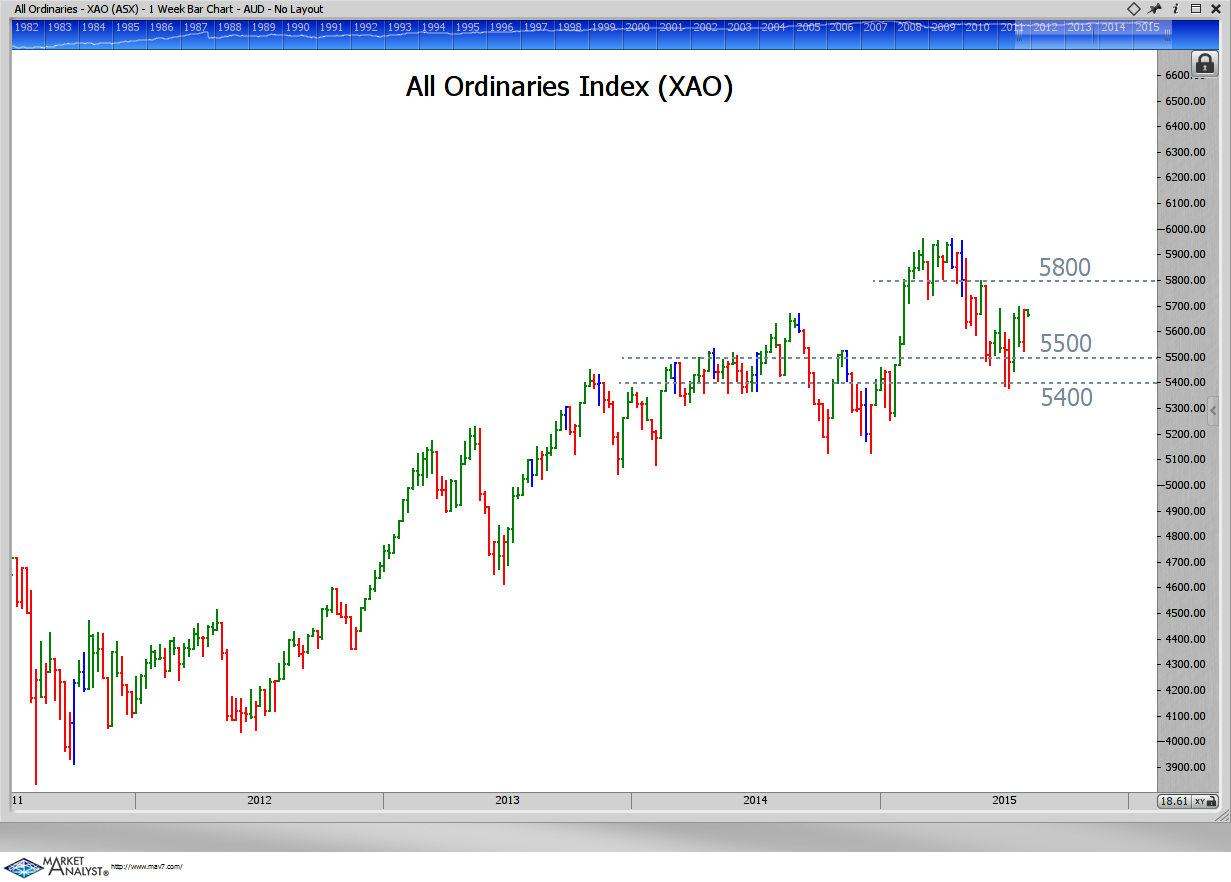 Click here to see the image in full size