All Ords Report 18/10/2011
As a result of the GFC, world markets have been exposed to more government scrutiny and increased regulation. At times I question whether some of the controls have gone far enough in making our share market more transparent, or whether the government is being dictated to by the big end of town to do things that suit them. On the flip side I believe some of the new regulations and red tape has gone too far, which in turn increases costs, stifles business growth and leads to less competition. All of which is not good for the consumer, as it does little to achieve the desired result in making investments more transparent or safer, nor is it good for business as it places extra burdens on them.

Whilst not related to the share market, but one that will have a great effect is the announcement last week that the government passed the carbon tax bill in the lower house. In my view, this will not only increase costs but lead to stifled business growth and less competition, at a time when we can least afford it. Don't be surprised if in the near future we see increased unemployment as large scale layoffs occur because Australian businesses struggle to compete internationally. This will be especially so if the Australian dollar increases, which is likely as Europe and the US continue to print money resulting in the devaluation of their currency.

What do we expect in the market?

Following the recent low on the Australian share market at 3905 points on 4 October 2011 the market reversed strongly over a period of nine days, with most of the rise occurring in the first five days. When a market turns the initial rise you see is usually the effect of traders closing out of or 'covering' their short positions, as well as the speculative traders banking on a rise over a few days. This is why it takes a few weeks, and in some cases a few months, to confirm whether a market is more likely to continue to rise following a reversal. As such, we are still waiting for confirmation as market continues to trade between 4200 and 4400 points.

For a rise to be sustainable, confidence needs to be restored back into the financial markets regarding the debt crisis in Europe as right now the average investor is confused by the myriad of mixed messages in the media about the crisis. One day we hear that the Euro leaders are close to a resolution and then the next there seems to be yet another road block in the way. If ever there was a time for investors to be employing an investment strategy that puts risk management ahead of quick profits, now is the time.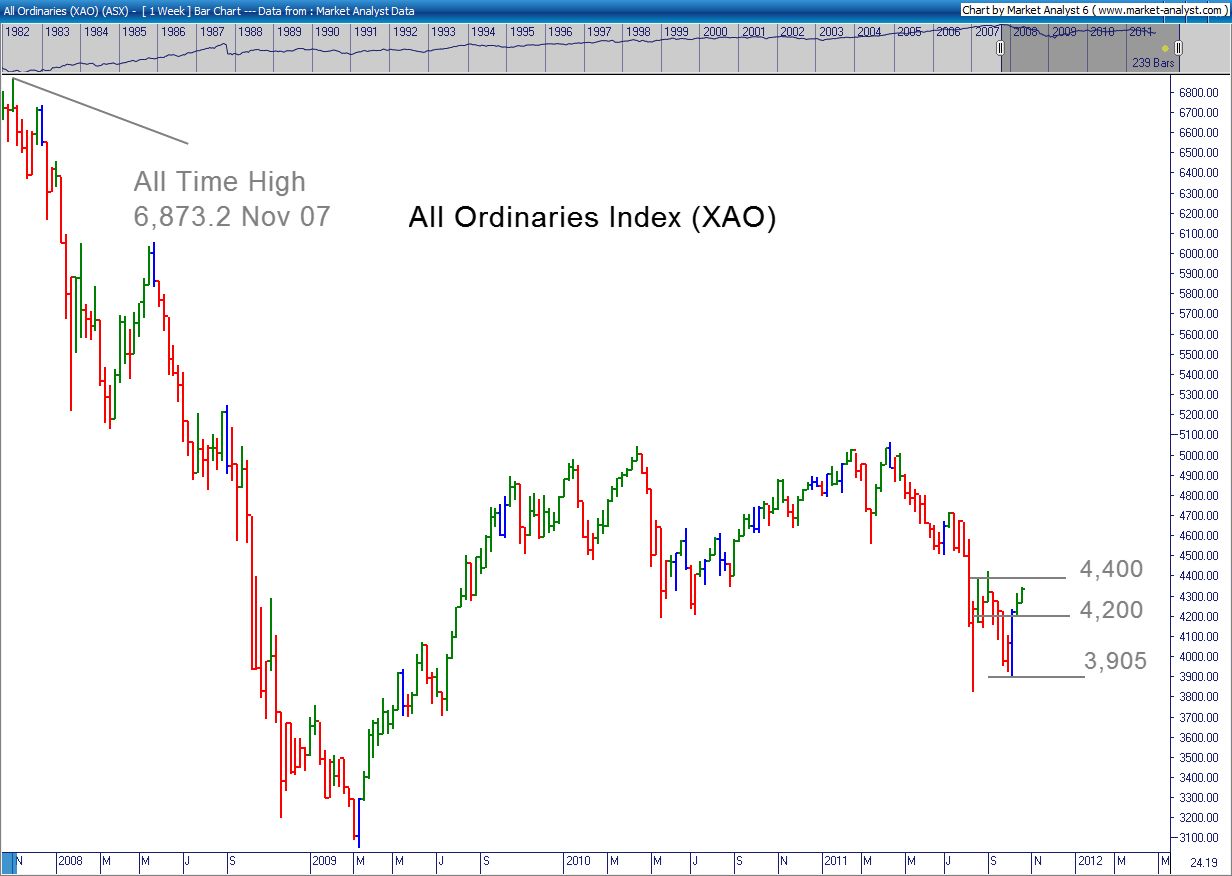 Click here to see the image in full size
Visit Wealth Within on
Facebook
or twitter #wealthwithin.
Until next time
Good luck and profitable trading
Dale Gillham
Chief Analyst