All Ords Report 13/12/2011
Last week the banks had mortgage holders living in hope, yet again, that rates would drop in line with the RBA's 0.25 per cent cut. But in a situation that is becoming all too normal, the banks stood their ground until mounting pressure from the government and the public finally drove them to follow suit.

While they did match the rate reduction, it came with a cloud of doubt over whether they would allow future rate cuts to follow, citing increasing global economic uncertainty as the reason. Critics see the recent stand-off as evidence that the Big Four are sticking together, which puts a question mark on banks as consumers want to know whether Australia really has a competitive banking industry or is this just an illusion.

For the past 12 months Wayne Swan has been instrumental in supporting smaller banks to improve the playing field, however, we need to see evidence that this is working. Just because ME Bank stepped up to cut rates almost immediately does not mean the government can take credit, remember ME Bank have a history of supporting Australians. As the saying goes, 'the proof is in the pudding' and in light of the financial results of the Big Four this year, there really was no justification for not passing on the rate cut.

So what do we expect in the market?

Following the strong rise the previous week, the Australian share market continued up to a high of 4391 points on Monday 5 December. Given the strength of this rise, probability would suggest that further rises were on the cards, however, after rising for 6 straight days the market fell away in what is normal market fluctuations.

I see no reason to make any rash decisions in response to the falls of the past few days as the market is still holding above support of between 4100 and 4200 points. What we are seeing, to some extent, is a reflection of the cautious stance being taken by the institutions waiting to see signs of how Europe will handle the current economic situation.

Traders will see the current move as an opportunity, and part of the normal ebb and flow of the market, that is they know that in order to get the gains you have to be prepared for some falls along the way. For now, we expect the current volatility will ease in the coming weeks and the market will be bullish for the next few weeks into late January. If this occurs, everyone can relax and have a great Christmas.

Wealth Within would like to wish you a very Merry Christmas and a Happy New Year.

We hope 2012 brings you much success and happiness.

We will be back on the 17th of January 2012 with the next market update.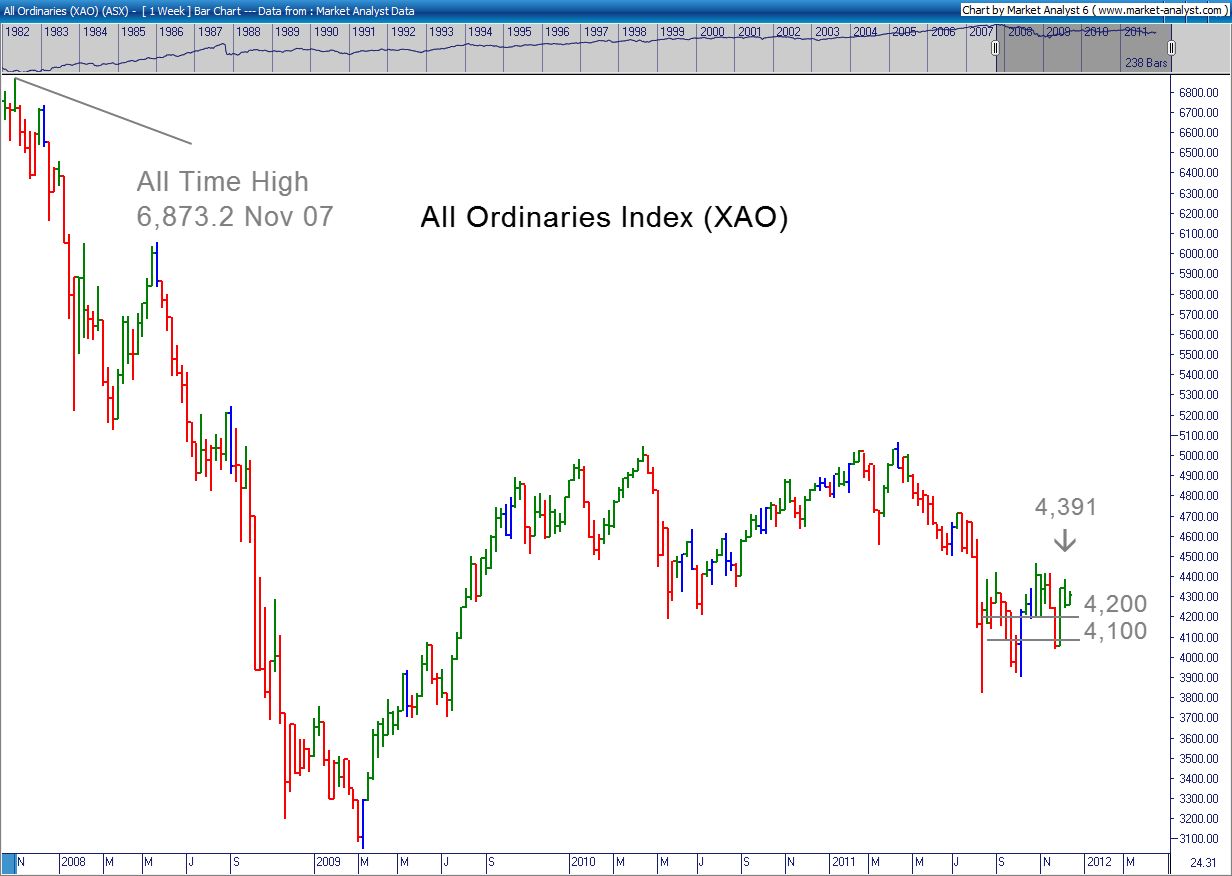 Click here to see the image in full size
Visit Wealth Within on
Facebook
or twitter #wealthwithin.
Until next time
Good luck and profitable trading
Dale Gillham
Chief Analyst