All Ords Report 17/01/2012
Welcome to our first market update for 2012. From the team at Wealth Within, we hope everyone has had a very enjoyable festive season.

The GFC has taught investors a valuable lesson about the risks of maintaining the strategy to buy and hold equity investments, yet despite large losses the majority would rather continue to practice their hope-and-pray strategy as they wait for a recovery rather than learn how to protect their investments. Last year the decline in the share price of some of the big names continued, with investors starting to see how even stocks that are classed as being 'Blue Chip' by the financial industry are not awarding any special protection from further declines. This week QBE Insurance Group is one such example.

Australian investors saw red last week when once share market darling, QBE, stunned the market with a massive profit downgrade. Management of QBE indicated the damage to the company bottom line is in the order of 40 to 50 per cent, citing the spate of natural disasters as the cause. In response, QBE's share price dropped like a lead sinker after it was released from a trading halt pending the announcement. Although QBE's share price has recovered somewhat, the initial fall on Thursday represented a decline of around 20 per cent from Wednesday's closing price of $13.00. QBE is still a great share to own, just not right now, and there is talk about further acquisitions which seems positive. That said I don't see how all of this is going to give investors any greater sense of security about QBE, or other blue chips shares for that matter.

What do we expect in the market?

Since our last report on 13 December 2011, the Australian share market held above support at around 4100 and 4200 points as expected, although in saying that the market has presented challenges for both investors and traders this past month. On a positive note the market has made some solid gains to start the New Year, with the all Ordinaries Index rising well clear of the December low of 4091.6 points, and above the upper band of our previously identified support zone. Although this is a positive sign, it's still too soon to confirm whether the market as a whole will be able to build sufficient momentum to buck the current sideways trend. From here I am watching to see whether the market will continue to hold above the support zone well into February and unfold in a sustained upward move, as then the probability of a further rise to around 4500 points and above becomes a realistic scenario.

So what does this mean for investors? At this point don't expect miracles, and it is important to continue to keep an open mind about what the market might do over the coming months as it could just as well be bullish as bearish. One of the biggest mistakes I continually see investors and traders make is to behave like sheep and follow the herd.

FREE online seminar

Before signing off, Wealth Within would like to invite Wealth you to participate in a FREE online seminar titled "2012 - What's in Store for the Year Head".

During the session we will share our thoughts about the Australian share market as well as what to expect in world markets, the Australian dollar, gold, oil and other markets.

The seminar will be conducted by Dale Gillham and Janine Cox (senior analyst at Wealth Within) next Tuesday the 24th of January from 7.30 to 8.30pm AESDT.

To register your interest simply email your contact details to info@wealthwithin.com.au.

We look forward to sharing our thoughts about where the market is heading among other things with you next week.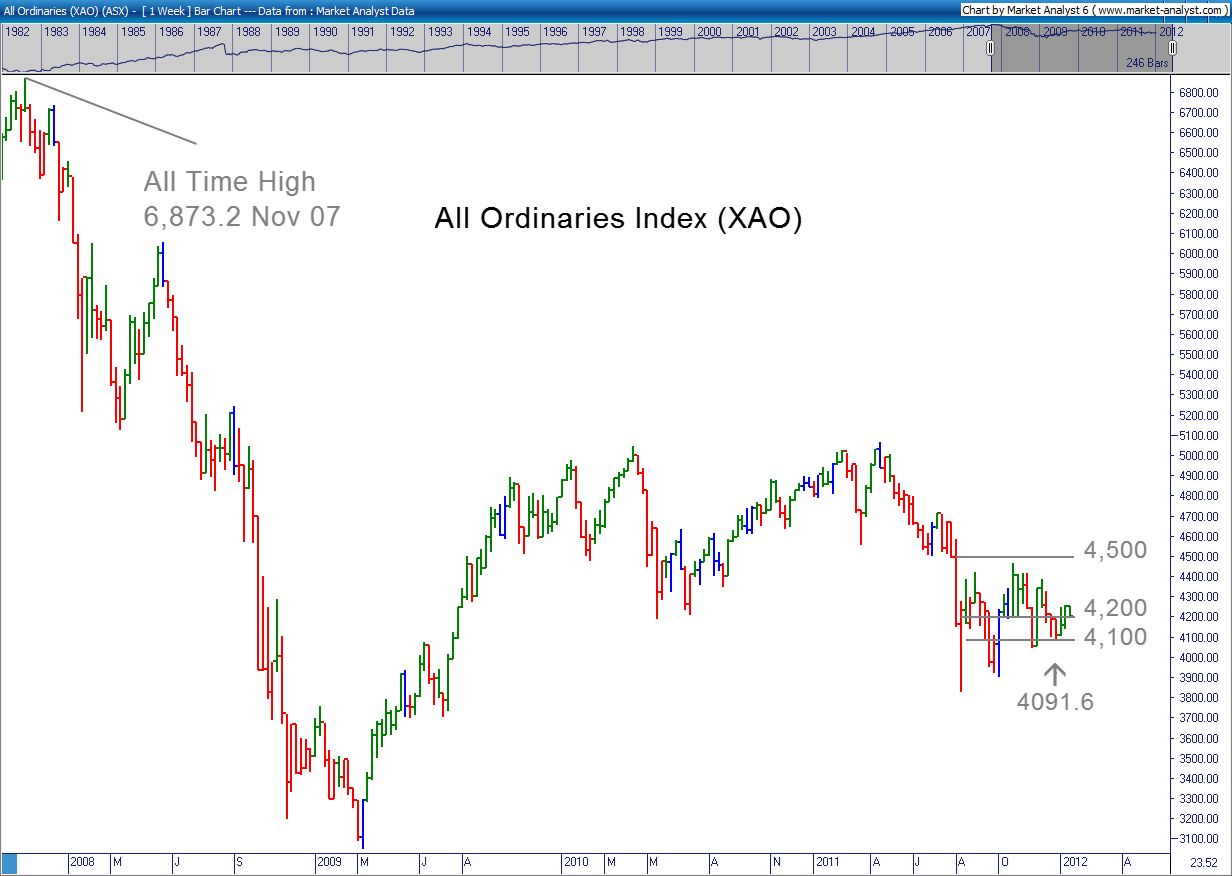 Click here to see the image in full size
Visit Wealth Within on
Facebook
or twitter #wealthwithin.
Until next time
Good luck and profitable trading
Dale Gillham
Chief Analyst