All Ords Report 14/02/2012
What are the best shares to buy right now? This question I hear time and time again, usually from people with a hit and miss approach to investing, however, they are probably the very same people I shouldn't answer. Let me explain….

I find that many people looking to buy shares just want to be told what to buy and sell, however it is not that simple. This situation was highlighted to me this week when one of my team received a call from a prospective student who had previously lost over two hundred thousand dollars and was asking for advice after losing a further one hundred thousand dollars. What would you say?

Firstly, I can't comprehend losing that amount of money because if you know what you are doing then losing that amount of money is inconceivable. Further, if I told this person what to do would they follow my advice? Evidence suggests not. Also remember that what is said must be taken in context. Is this person looking to invest for the short, medium or long term, and is the goal of their portfolio to generate income, growth or both?

The sad fact of the matter is that for the majority of investors and would-be traders, all they know is that they want to make money but have very little idea how to do it. Worse still this is only one example of many similar stories that I have heard in both bull and bear markets, and why my advice to you is that your best investment is in educating yourself as ignorance can be expensive.

What do we expect in the market?

The one thing I see as noticeably different about the Australian share market this year when compared to what most will remember about 2011 is direction. So far 2012 has seen Australian equities move up steadily off their 2011 lows, with this week's rise likely to continue up above last week's high of 4380 points. Given that the rise has extended beyond what is typical in a bearish market, I believe it is highly likely for the market to trade through 4500 points and possibly to 4600 points into March. As it makes the move be prepared for a dip of possibly one to two weeks prior to the next peak.

Most notably, a continuation of the rise this week will confirm an unbroken run up over seven consecutive weeks on the All Ordinaries Index, and yet investor sentiment and reports in the media remain bearish. Given this, you may be wondering whether our market is climbing a wall of worry, or does the rise signal the start of the next bullish phase?

Remember how Warren Buffett taught us to be greedy when mass market psychology is fearful? Having experienced many years in the market over bullish and bearish times, I believe the signs are emerging to suggest that our market is entering a new paradigm. Therefore, instead of being fearful this is the time to prepare for the next phase.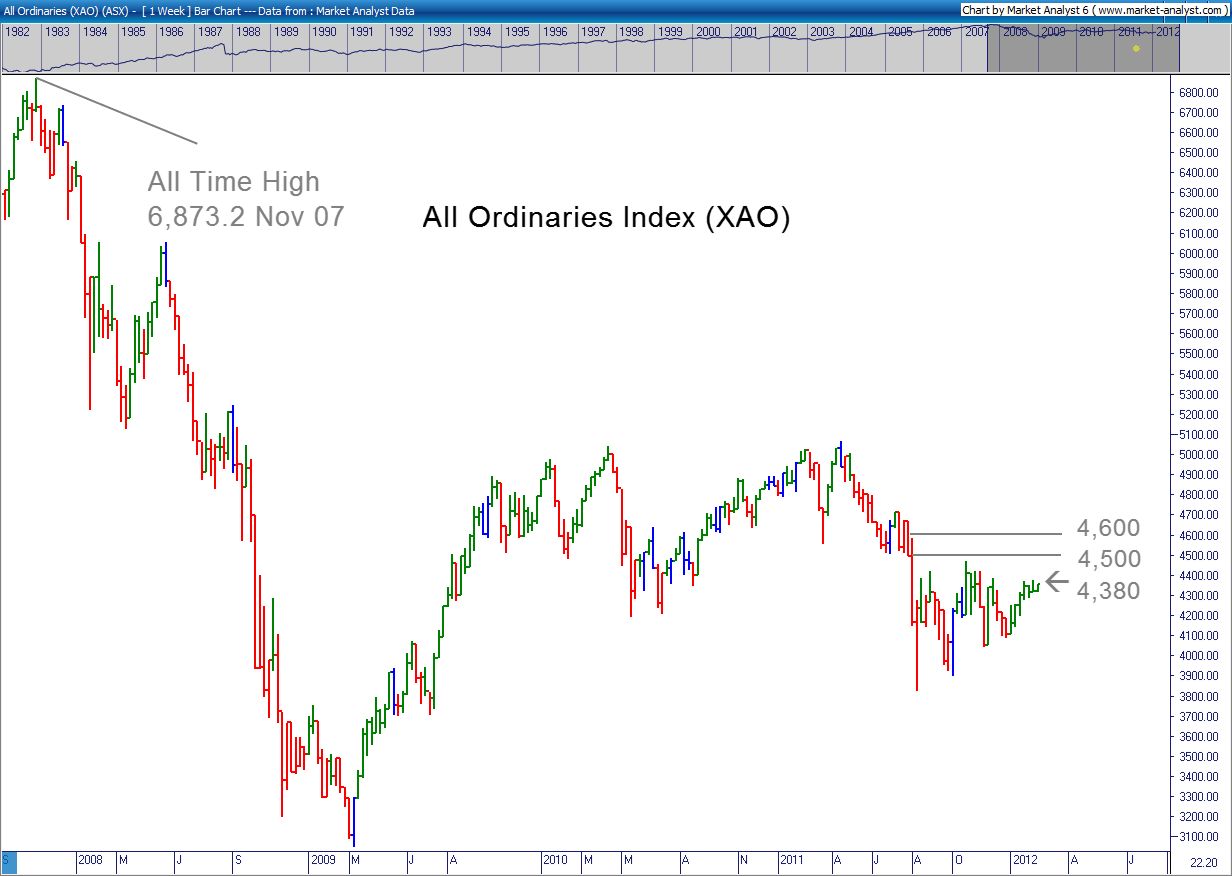 Click here to see the image in full size
Visit Wealth Within on
Facebook
or twitter #wealthwithin.
Until next time
Good luck and profitable trading
Dale Gillham
Chief Analyst