All Ords Report 03/07/2012
If everyone could make their future investment decisions with the benefit of hindsight, then we would all be wealthy. Sadly this is not reality, and hindsight, or the way we have rationalised the events of the past, will actually hinder our ability to make rational investment decisions in the future. The 'if only' scenario gets played out time and time again by people from all walks of life every day. Hindsight has us saying things like if only I sold last week, or bought when I thought about ABC stock, I would have done better. Hindsight also causes us to hold a distorted view of what actually happened when we make future decisions.

Whilst the benefit of hindsight would be wonderful to have before we invest, having a distorted view after the fact is a negative as it causes us to feel better about our decision or to blame someone else and therefore we don't learn from our mistakes. Put simply, we like to save face when things do not go as well as we hoped, so rather than take it on the chin that maybe our decision was not as good as it could have been, we make excuses for, or defend, what really happened so it looks like it was not our fault.

Remember, all investments have some degree of risk, and as a result nothing is guaranteed. Smart investors know this, so they do their due diligence on every investment prior to putting their money on the line and take responsibility for their decisions. As such they are less emotional and less likely to make poor investment decisions, with the result being that they are more profitable over time.

So what do we expect in the market?

Following Friday's strong close at 4135.5 points the Australian market continued to rise this week as global markets took a more optimistic tone about the European debt crisis. Although European talks appear to be moving in the right direction to stabilise the European banking system, a resolution to the debt crisis is still far from over. This renewed buying pushed the All Ordinaries index back through 4100 points - the lower level of our support zone between 4100 and 4200 points, which I previously identified as an important level in preventing a further decline.

The recent rise on our market was a welcome relief for most investors who were getting frustrated by the overall lack of direction as the market had merely tracked sideways over the past seven weeks. On the plus side, investors could see that the market was still showing signs of support holding at around 4100 points. The downside was that with a lack of direction, or indecision, investors recognise that the market could still go either way and this added to investor uncertainty.

Whilst I see the recent rise as positive, we still need to see the market trade strongly above 4250 points and hold above this level to confirm that the rise is sustainable. Given this, investors are best to continue to take a cautious approach to the market as any surprise announcement over the coming weeks could turn markets back quickly and I believe it is still too early to tell whether the market will recover from this level. Remember that in any decline the big end of town will test the commitment of the buyers and sellers by first driving prices higher and then selling down, so watch carefully for this activity.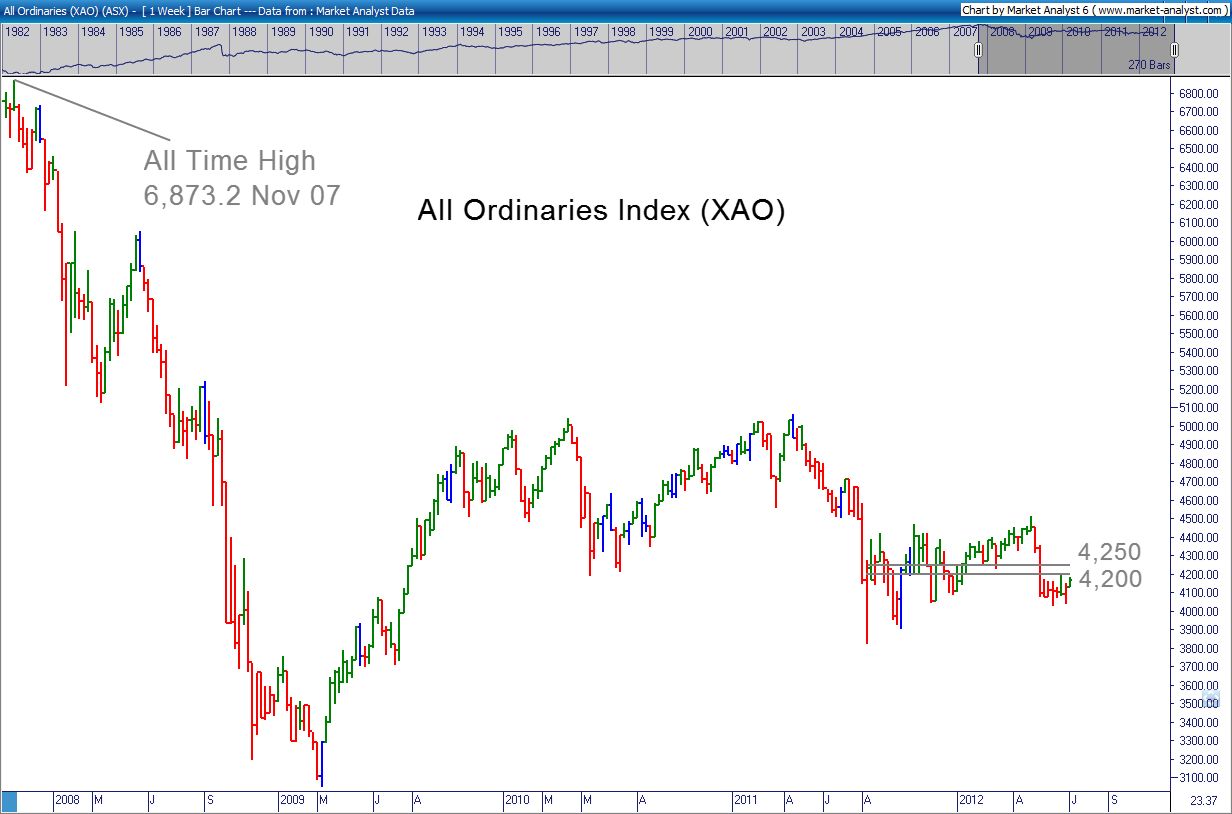 Click here to see the image in full size
Visit Wealth Within on
Facebook
or twitter #wealthwithin.
Until next time
Good luck and profitable trading
Dale Gillham
Chief Analyst