All Ords Report 11/09/2012
Our superannuation has come under fire again last week as former Treasurer Peter Costello commented that increasing the superannuation guarantee from 9% to 12% won't necessarily help people build a retirement. Now he has a point, and the statistics tend to back him up when you consider that superannuation in general tends to underperform other investments. This is one of the reasons why so many are moving to Self-Managed Superannuation.

A challenge for the government when it comes to superannuation is that in general Australian's don't trust them, and this dis-trust has been well earned over the past few decades as successive governments have made literally thousands of changes to superannuation. Given that superannuation is a long term investment vehicle, constant changes to how superannuation works makes it impossible for anyone to predict how things will be in their retirement. An announcement this week by the Labour government, is that amongst other things it will look to tax superannuation more, and this does nothing to change this constant uncertainty around superannuation. It's no wonder many struggle to retire.

The further challenge for the government is, that if there was no compulsory superannuation then as a nation we would have a large problem as so few Australian's actually plan for retirement or plan for it far too late. This is evidenced by the fact that even though we have had compulsory superannuation in this country for decades, on average men are retiring on $250,000 and woman on $145,000, well below what is needed for a comfortable retirement. Further according to the Rabbo Direct 2012 National Savings and Debt Barometer, 46% of working Australian's have only one month's savings in the bank to tide them over. Therefore I would suggest that if there was no compulsory superannuation and everyone got 9% more in their pay each week, we would still see 46% who I would consider essentially broke, as it seems Australian's prefer to spend up to their income level rather than plan for the future.

So what do we expect in the market?

Reporting season has been quite interesting this year with around 69% of companies reporting slightly higher profits, which is really good news. The interesting thing is even though we have seen relatively good news is that All Ordinaries Index however has fallen, for the third successive week trading down to 4281 points last week. This recent bearishness looks like the downward move that I had been expecting, and the positive news is that last week the All Ordinaries Index actually closed higher than it opened and so far has found some support against the downward move.

If our last low in June was our yearly low, then we could reasonably expect that in the next one or two weeks that our market would find support and start to rise again back up through the 4400 level. If we are still to see our yearly low then it is possible this downward move will last longer into October and we will see the All Ordinaries Index falling to between 4100 and 4200 points. Personally I would prefer that the All Ordinaries Index hold above 4200 points as this will signal that our market is more bullish and more likely the next rise will move above the 4500 point level.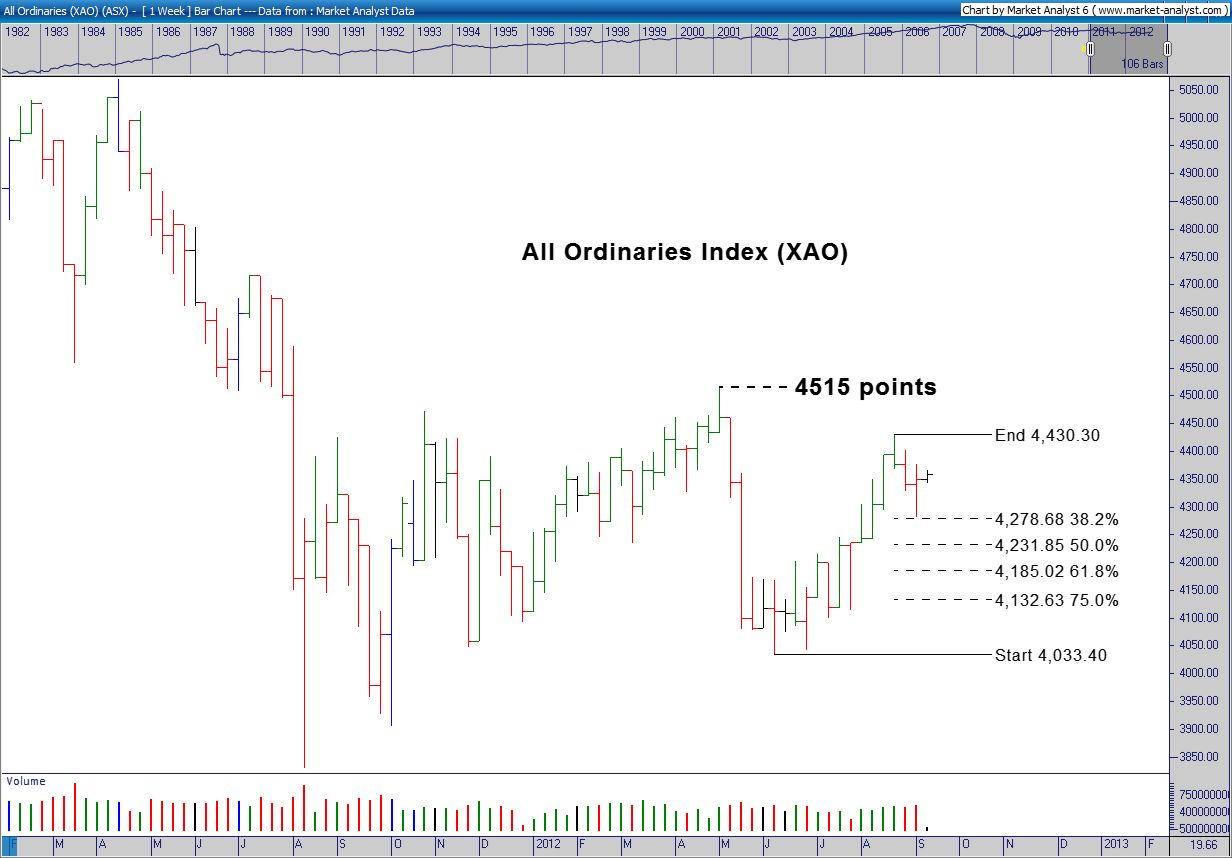 Click here to see the image in full size
Visit Wealth Within on
Facebook
or twitter #wealthwithin.
Until next time
Good luck and profitable trading
Dale Gillham
Chief Analyst