Rare Earth Resource Stocks: Should You Be Investing?
There is a common belief that rare earth resource stocks are the next best thing and that they will make you a lot of money if you invest in them. But trying to pick the next big winner and selecting when these investments will be viable in the long term is a different story altogether.
What are rare earth resources?
Rare earth resources, otherwise known as critical mineral elements, are considered important for the economic and industrial development of many major and emerging economies. These resources are most often used in products such as mobile devices, rechargeable batteries, defence technologies, electric vehicles and electronics.
According to the Governments recent strategy on critical minerals in Australia, there are 24 rare earth elements present in Australia that are deemed critical by many countries, as detailed in the table below.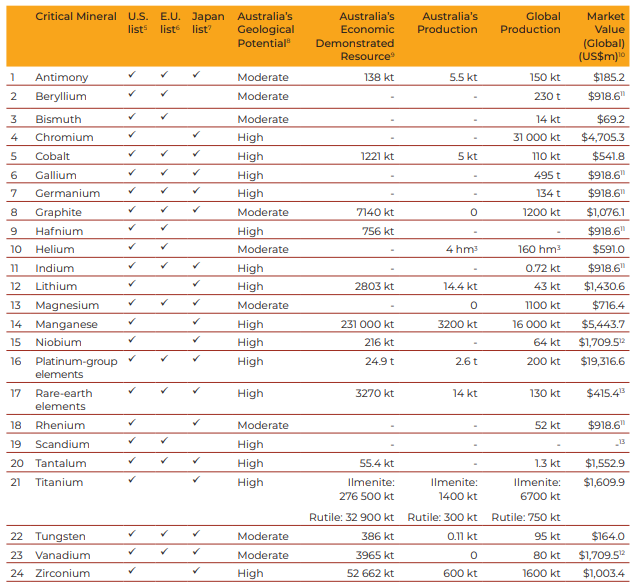 Accordingly, as demand for these critical minerals grows around the world, there is significant economic opportunities, which Australia is well placed to take advantage of. For example, Australia:
has the world's third largest reserves of lithium and is the largest producer of lithium in the world
is ranked sixth in the world for rare earth elements and second for production , yet many of these deposits remain untapped
has large resources of cobalt, manganese, tantalum, tungsten, and zirconium.
In fact, the battle for rare earth resources between technology giants such as Apple, Samsung and Google has been on foot for quite some time. Due to their size, however, they have attempted to bypass conventional channels to access these resources by going directly to suppliers to reduce their overall cost of production, which could be advantageous for investors looking to invest in these small cap stocks.
Should you invest in rare earth resource stocks?
A study conducted by researchers at Yale University shows that materials such as zinc, copper and aluminium are in no genuine danger of depletion. Other rare earth materials utilized in current smartphone technology, however, are at real risk of scarcity, which means it will become harder to source these rare materials in the future.
For example, materials such as Chromium (Limited due to supply restrictions), Mercury (limited due to the environmental implications of mining), Gallium (limited supplies) and Cobalt (limited supplies due to political instability in the Congo), which are some of the key resources that are used in the production of batteries and circuit boards, have now caught the attention of market speculators.
With the amount of smartphones being manufactured globally, the opportunity to buy and hold these rare earth materials has become quite illusive for some investors with many hoping that their scarcity will result in increased prices.
But remember, as humans we are very adaptive and when natural resources are no longer cost effective, we seek alternatives that are cheaper. Think of lead which is used in pencils. Given that lead became expensive and unsafe, we now use graphite.
So should you be investing into rare earth resource stocks?
Lithium and other metals involved in making batteries will most likely rise in price over the coming years and so the share price of companies in this area should do well. I also believe rare earth elements will do well as they are also part of this new battery technology. So, on a world scale, we can expect to see an expansion into these areas and more governments, and companies profiting from them.
Picking the next big winner in rare earth resource stocks
However, trying to pick the next big winner in the market could result in investors taking on higher risks to their portfolio, given that they lack the knowledge and are ill-prepared to manage the risk of these speculative investments, particularly as they have huge swings in price.
Therefore, as a general rule of thumb when investing in the stock market, no more than 10 per cent of your total portfolio should be invested in speculative investments. And if you are using leverage to invest in these assets, ensure you hold no more than four positions at any one time.
Remember, these emerging stocks are often at the low end of the liquidity spectrum, which means that investors are not always able to exit at a price they would like. Indeed, many companies go broke and are delisted long before they take off. Therefore, you need to be able to manage this risk regardless of how much you invested and you need to be able to commit to selling the shares if the stock price does fall.
Having the discipline to manage your investments will ensure you don't lose all of your capital. In fact, I guarantee you will gain a lot of what you need to know about investing in the stock market by reading my latest award winning book, Accelerate Your Wealth. You have nothing to lose and everything to gain.
Alternatively, you may want to consider my bestselling book, How to Beat the Managed Funds by 20% by clicking on the link below.