Are you looking for a proven low risk approach to investing directly in the stock market?
Accelerate Your Wealth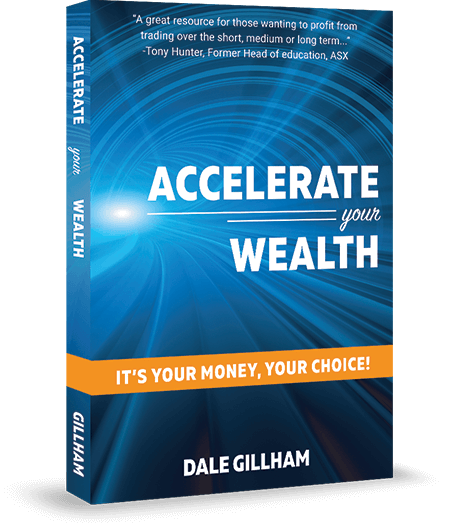 From the bestselling author of How to Beat the Managed Funds by 20%, Dale Gillham provides you with another compelling book on why you should consider taking the bull by the horns and investing directly in the stock market. With his no-nonsense approach to trading, millennial's through to those in retirement will gain the confidence and know-how to achieve very rewarding returns.
Those who follow the strategies outlined in Accelerate your Wealth are able to achieve better returns than the majority of professionals and pocket the fees they would otherwise pay to have someone else manage their money.
Accelerate Your Wealth is a great resource for those wanting to profit from trading over the short, medium or long term
Tony Hunter, Former Head of Education, Australian Securities Exchange
Accelerate Your Wealth is a 'vault of golden nuggets' for new or existing traders wanting to achieve greater success.
Paul Henderson, NSW
Accelerate Your Wealth is truly the key to unlocking your potential to not only creating your own wealth but becoming responsible for your own destiny.
Kerrie Taylor, VIC
I have just finished reading Accelerate Your Wealth and I wasn't disappointed. I am impressed that Dale has been able to put so much knowledge into such a short story. The book is comprehensive, easy to read and understand, and so engaging.
Kate Gleave, QLD
I highly recommend this book, not only to those starting out in the stock market but also to those who have been investing or trading for some time. It provides solid ground on which to build a profitable portfolio.
Barry Ward, NSW
Accelerate Your Wealth is a "must read". It contains brilliantly written, easy to understand proven structured trading strategies, offering a reflection of Dales' profound experience and skill in the trading and investment industry.
Tracey Hutchinson, SA

---
How to Beat the Managed Funds by 20%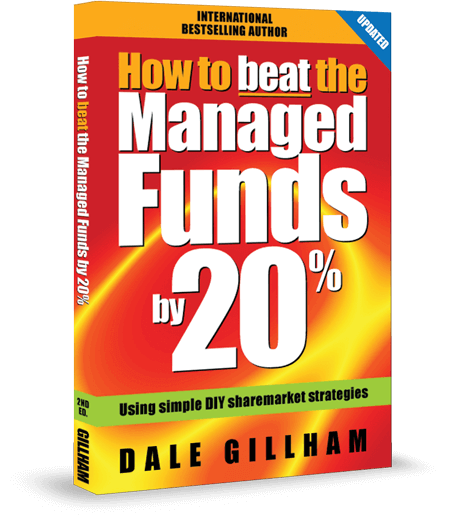 How would you like to take control and invest directly in the sharemarket with confidence?
This leading investment book shows you how.
In this updated and revised edition of the bestselling book 'How to Beat the Managed Funds by 20%', Dale Gillham, one of Australia's most respected analysts (Wealth Creator Magazine, Nov 04) and sought after keynote speaker, provides a practical and easy approach to trading the sharemarket profitably and consistently, allowing you to take control of your investments and achieve better returns than most professional funds managers.
This fascinating trading book shows how, by simply investing in some of Australia's biggest and strongest companies, you can not only achieve very profitable returns but also beat the managed funds by at least 20%.
If you are new to trading, think of this book as a good foundation on which you can build your personal wealth-creation strategies. If you are more experienced, think of this book as a keystone, the stone at the top of an arch that holds all the other stones in place.
Garnett Znidaric, Your Trading Edge Magazine
Just brilliant! I couldn't put it down.
Jennie Houston, VIC
The title says it all, How to Beat the Managed Funds by 20% - and this book delivers exactly what it promises.
Editor, Zest for Life
I certainly hope your book is a taste of things to come in the Diploma Course. I can't wait to start! Thanks again, I LOVED your book!
Shari Brewster, NSW
I started reading and I couldn't stop until I finished it all. Many thanks for the best advice I have ever received.
Elizabeth Wydymus, VIC

Read More
Get the Book Free! (Just pay shipping)
---
Book Bundle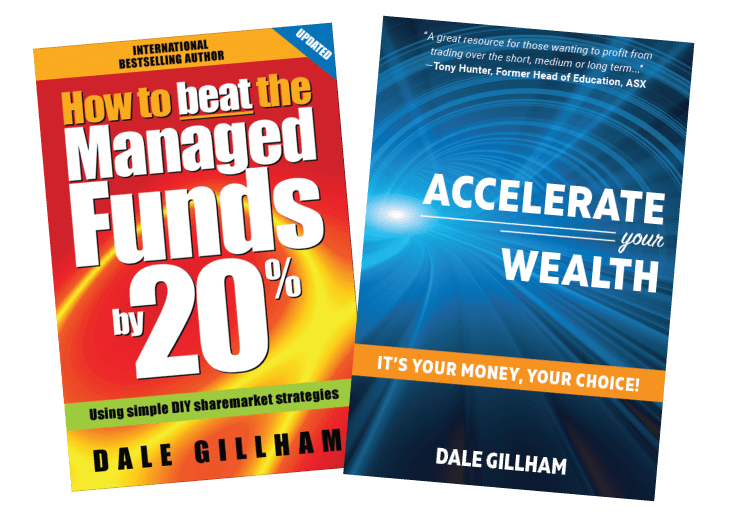 Get the best of both worlds by purchasing Dale's bestselling book 'How to Beat the Managed Funds by 20%' and his award-winning book 'Accelerate Your Wealth'.
Both books are packed with proven strategies to ensure you take the bull by the horns and invest with confidence to achieve very rewarding returns in the stock market.
Dale Gillham takes a simple yet comprehensive approach to a rather complex subject. I highly recommend this book to traders and investors looking to hone their skills while seeking financial independence.
Kritika Seksaria, Editor, Your Trading Edge magazine
Dale, you're committed to helping people beat the managed funds, and you're not afraid to tell it how it is—teaching people how not to lose money in good and bad times. Thank you for sharing your wisdom.
Jason McMillan, Graduate, Brisbane, QLD
Accelerate Your Wealth brilliantly and slowly guides you through the steps necessary to becoming a successful trader or investor—an easy-to-follow roadmap to safely and successfully trade financial markets.
Suzanne Burke, Trader, Hobart, TAS
A must-read for every trader and investor: If you are starting out on your journey, it will give you a great solid base of where to start and, more importantly, how not to lose all your hard-earned savings in the early years.
Sharon Gleeson, Trader, Bendigo, VIC
Dale delivers, once more, a concise, simple and no-nonsense approach to making money in the stock market. Accelerate Your Wealth is filled with practical, straightforward and common-sense strategies to assist readers truly create wealth.
Erica Bacon, Trader, Brisbane, QLD