Finding hidden gems among microcap stocks
---
Published in the ASX Newsletter, November 2016 by Dale Gillham
Emerging stocks can boost returns, but understand the risks first.
An old saying, "what a wise man does at the start a fool does in the end", is true regarding investors and traders.
Many tend to jump right in and only later realise that first getting a good education is the wise approach.
Would-be investors and traders buy into microcap companies thinking they will grab a piece of "the next big thing" to make their fortune, only to find it's not that easy.
So can you make good returns in microcap stocks?
Yes, but you need to be the wise man, not the fool.
Microcap stocks can be found in the S&P Emerging Companies Index, and over the past 12 months to 20 October 2016, this index rose 31.42 per cent against the All Ordinaries Index, which rose around 5 per cent.
In simple terms, microcaps are ranked in order of market capitalisation between number 350 and 600 in the All Ordinaries Index.
There are some other criteria, but you will get the idea that these stocks are low on the totem pole.
They usually have lower share turnover, are more volatile, and therefore riskier compared to much larger 'blue-chip' stocks.
More volatility is a double-edged sword. It can mean opportunity to make capital gains, but the opposite is also true when share prices fall.
A wise man who is educated in the market can have a win/loss ratio, meaning winners versus losers, of 60-70 per cent, while in the microcap space the chances of getting a winner drops by around half.
So, given this, you can guess the chances of the uneducated fool getting a microcap stock right.
Benefits of microcaps
A benefit (and a risk) of buying a microcap stock is that it can move very fast in price.
However, how you analyse what might be a good microcap is quite different from how you would analyse a large blue chip stock.
You also need to be aware of the liquidity risk, as there is dramatically less trading on microcap shares.
For example, in October I saw Dr Patrick Khor, CEO of iBosses (IB8), present at the annual Microcap conference in Melbourne.
Since listing in September 2015, iBosses has risen 150 per cent in price.
However, what you may not notice is that the last bar on the chart below is 4 October 2016, indicating no trading had occurred in two weeks for the stock (the lower green bars in the 'volume' section on chart).
So how do you know when to get into a stock like this?
Firstly, you need to see more share liquidity, with buying and selling volume increasing, as this means more wise people are buying the stock.
Secondly, you need to look at the announcements for the stock on the ASX website, and you need to read the annual and interim reports looking for increasing revenues, new contracts signed, acquisitions, and other information suggesting the company is growing and sustainable.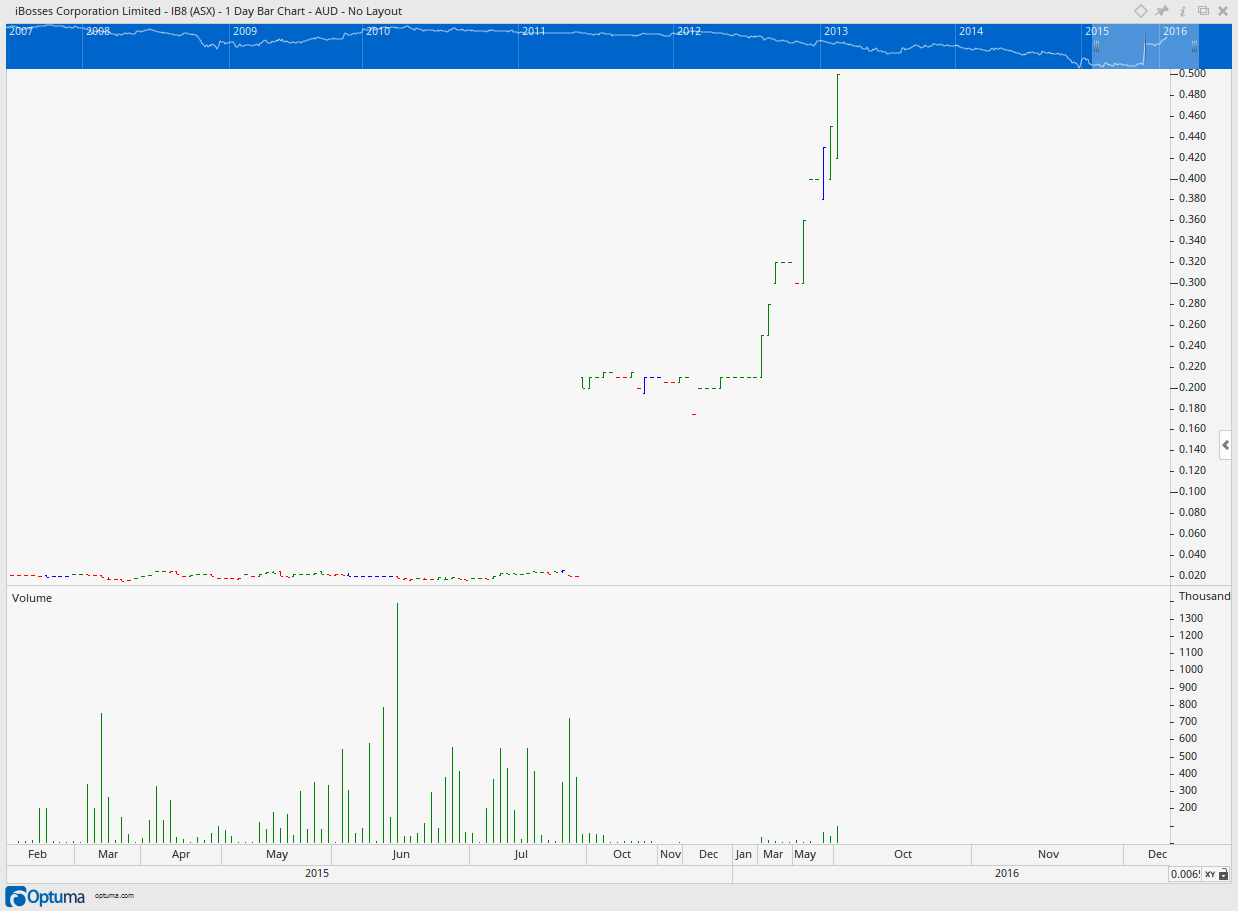 Chart 1: iBosses Corporation (Click to enlarge)
You will always be able to buy a share in a microcap company, but that doesn't mean you will be able to sell it when you want at the price you want.
So buying a stock with good liquidity is vitally important.
Another example of a company I believe has a solid story is Quickstep Holdings (QHL).
I chatted to CEO David Marino at the Microcap conference and have seen him present a few times.
Quickstep has been involved in the conference for some years and each year I enjoy hearing its story.
However, as you can see in the bar chart below, having a good story does not always translate into a rising share price.
While over the past three years the volume of trading in this stock has increased, the price has roughly halved.
So a good story is only part of the picture.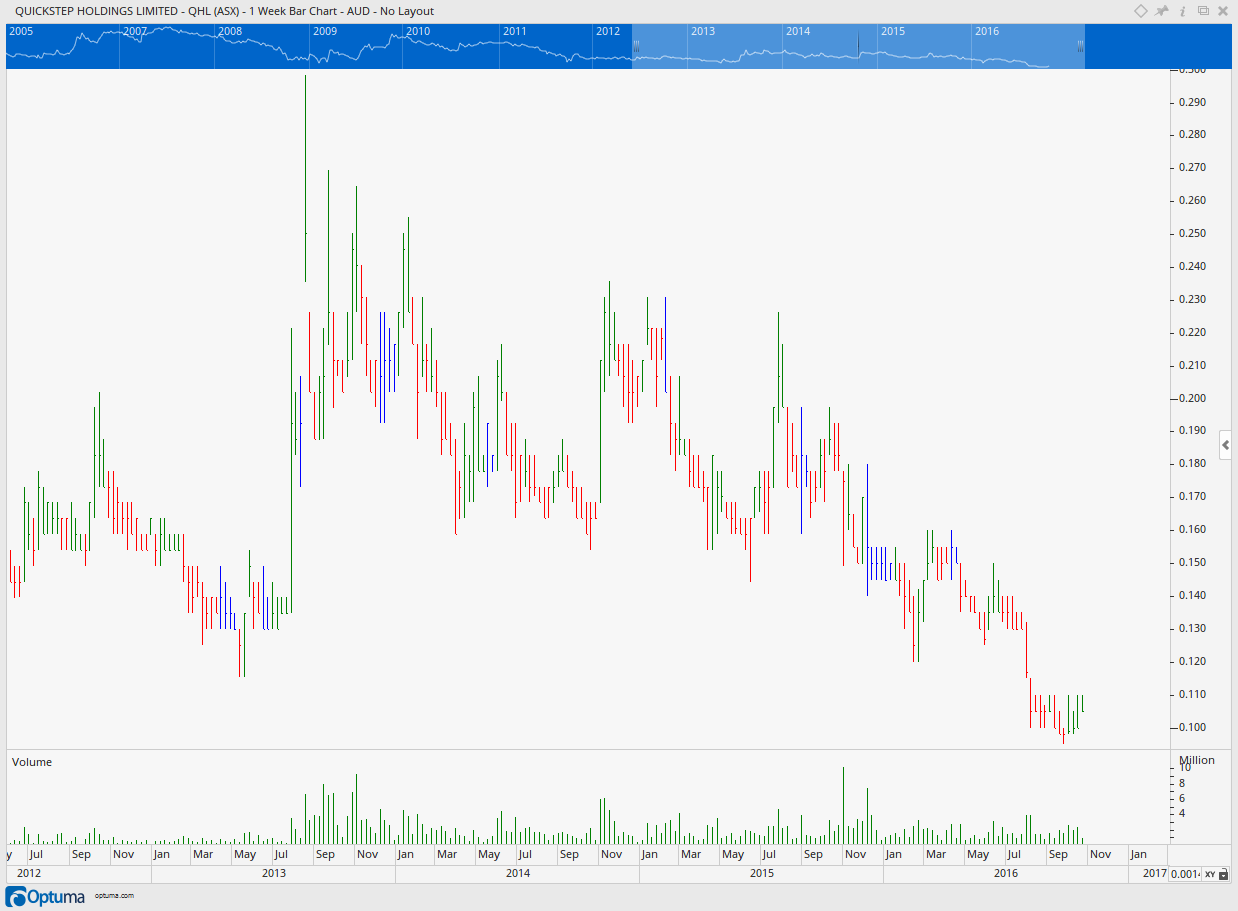 Chart 2: QuickStep Holdings (Click to enlarge)
Microcap stocks do not suit everyone as many do not pay dividends, are volatile, and at times illiquid.
The average investor simply does not have the knowledge nor the stomach to do consistently well in this area.
They suit investors with a high tolerance for risk who are in the growth stage of their portfolio.
Active trading of microcaps should be avoided unless you are an educated and very experienced trader, because it is hard to consistently pick winners.
That said, if you enjoy a challenge, microcaps can be fun if you pick the right company.
I enjoy watching them grow and expand over time, and we have many examples of good companies today that were once microcaps.
For example, Vita Group (VTG) and Vocus Communications (VOC). I wrote about them for this newsletter in 2013.
Both companies were at the Microcap conference and both impressed.
Vita Group has risen more than 500 per cent and V0cus well over 100 per cent since then and both have seen good increases in share turnover.
I suggest your collective microcap holding should not exceed 10 per cent of your total portfolio, and preferably a lot less.
The trick is to have some money in a good microcap stock but not too much, because if it rises like Vita Group has over the last three years it will add to your portfolio returns, and if it goes down or worse, delists, your portfolio will not be decimated.
So, before buying a microcap I recommend you:
Ensure the company has revenue from sales, and is preferably showing a profit.

If it has neither, it is unlikely that wise men will be investing.

Remember, companies grow in sales and profits.



Ensure it does not have a high debt level. Banks will lend consumers lots of money, especially if it is secured by a house, as they know people will pay to keep their home.

The story is different for companies. High debt levels over 50% can easily become unmanageable.

Lastly, look at a monthly chart to ensure volume and price are both rising.

You want to buy when momentum is supporting the move, as a rising share price means lower risk.

It is far better to buy at a higher price, knowing the price is moving up, than trying to buy when it is perceived to be cheap and has higher risk.



Other stocks that my attention at this year's Microcap conference
Money 3 (MNY) fulfils all of the three criteria I list above.
As you can see on the chart below, volume and price have been increasing in the past year, and the full-year results show rising sales and profit.
I am not suggesting now is the time to buy into this stock but the chart below shows a good example of what I have been writing about in this article.
In the past three to four months, the price has risen over 80 per cent, with share volume supporting the move.
When you match this with the fundamental information gained from the annual and interim reports you can reduce your risk of getting it wrong.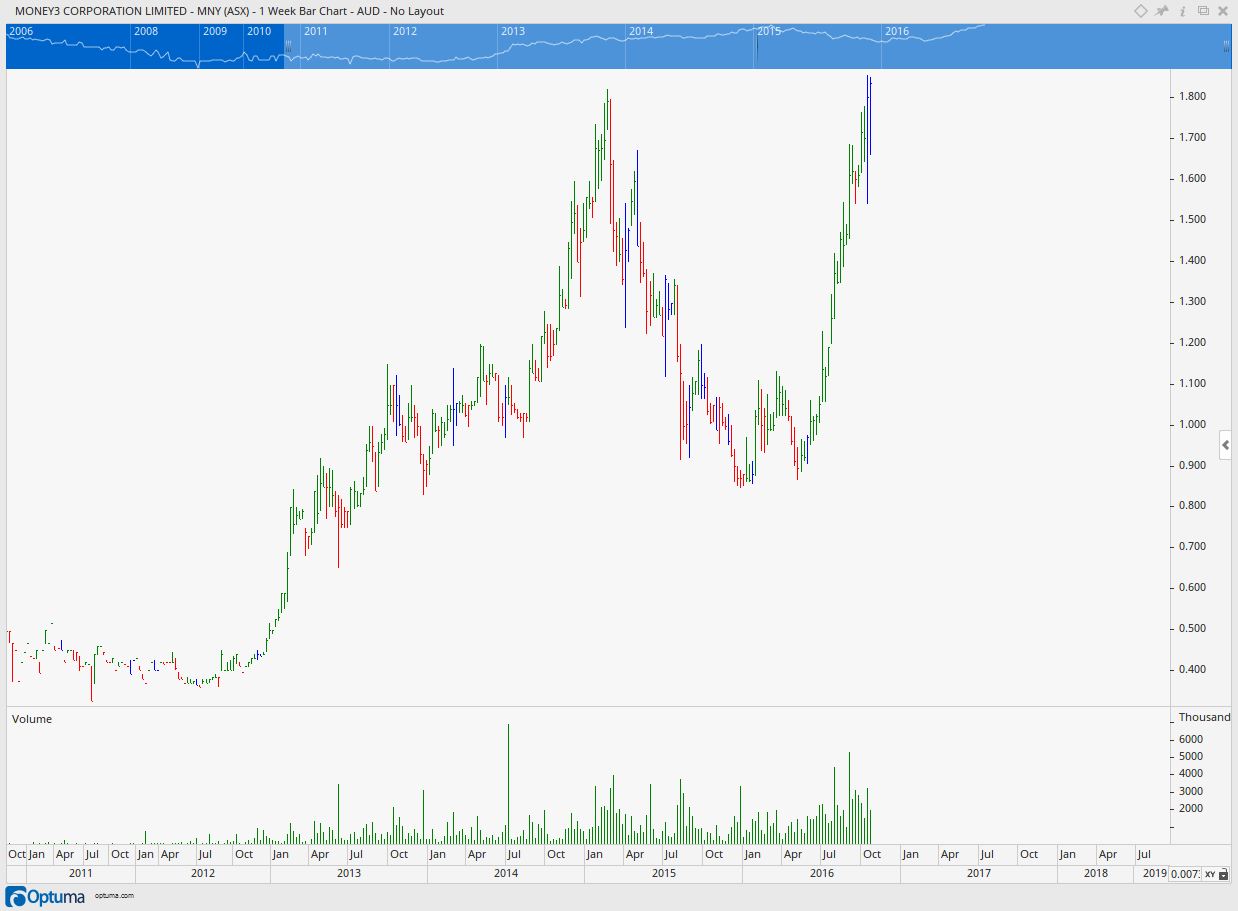 Chart 3: Money 3 (Click to enlarge)
The last company I want to mention is APN Property Group (APD).
Again, I am not suggesting buying this stock, especially given the share price has fallen 30 per cent in September and early October.
But it has a long history, is profitable, and share volume is increasing, so it could be one to watch for when the price stabilises and starts to rise.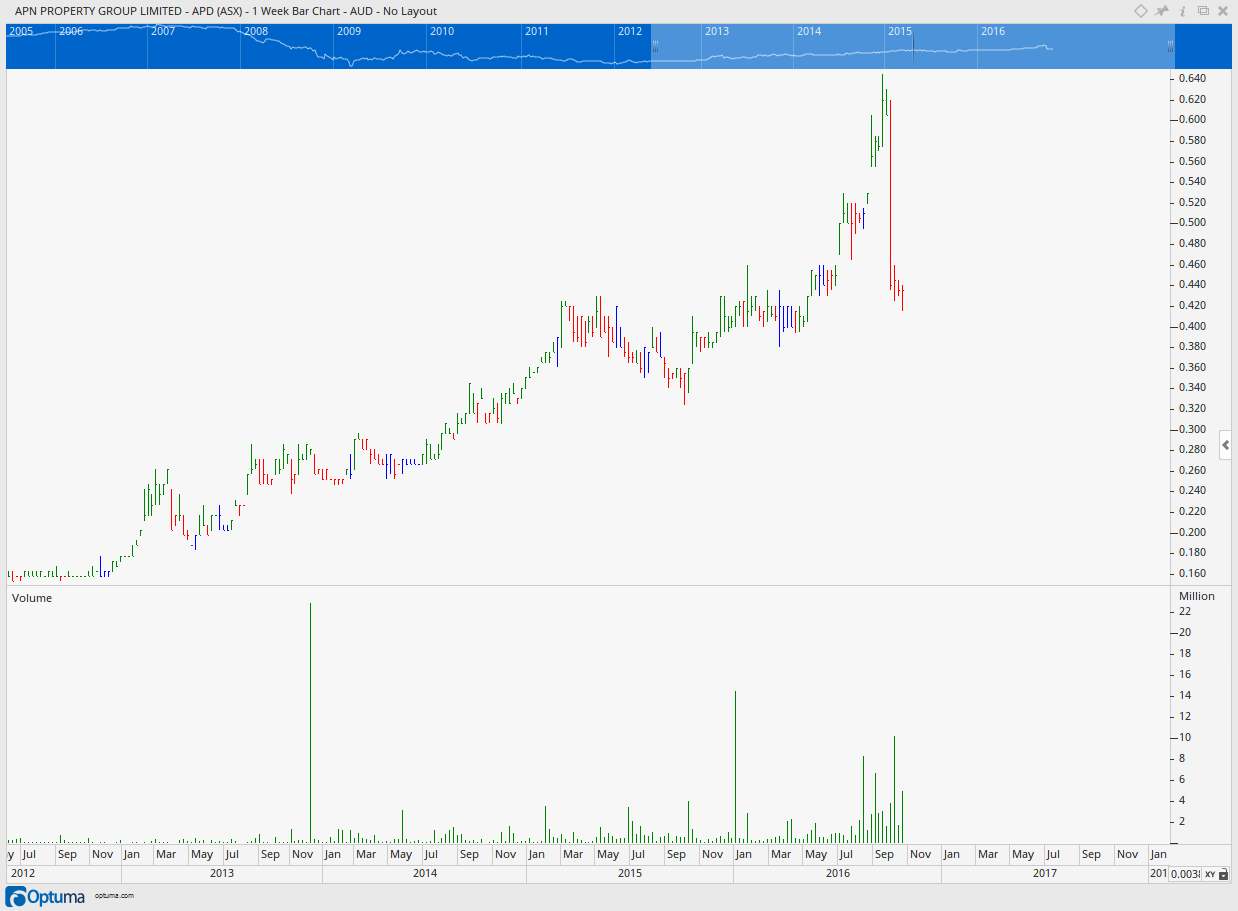 Chart 4: APN Property Group (Click to enlarge)
To learn how you can gain the required knowledge and skill to ensure your success in the share market click here.
Back to Articles