How Shares and Investing in the Stock Market Works
To someone who's unfamiliar with investing money in a stock exchange, buying and selling shares can seem like a foreign concept. While some see success with their investments, others are not so lucky. Before sinking your teeth into the stock market, it's important to be aware of your options and to have a well-rounded understanding of what the stock market is and how it works.
It's inevitable that investing your money in the stock market carries risk but when you are educated properly in how the market works, it is one of the most efficient ways to build up your net worth. The majority of investors are losing money in the stock market, but with the right knowledge and discipline, your earning potential can be endless.
Don't get discouraged just yet. In this article by Wealth Within, we'll start with the basics including what a share is and how to invest successfully in the stock market. After reading this, we're confident you'll have a better grasp on how you can invest money wisely.
What is a share?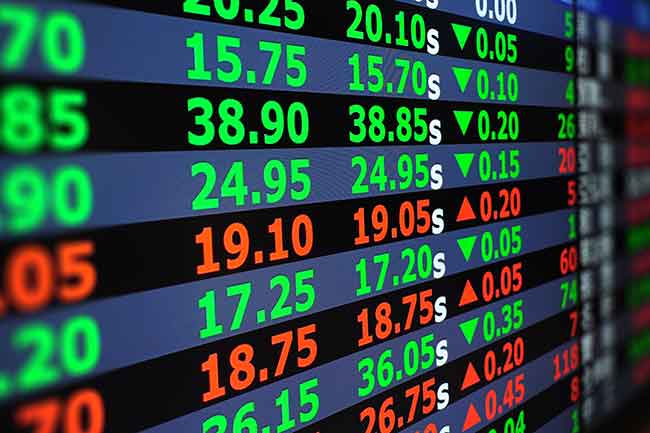 Now let's start with the essentials. You can't really start investing money in the market until you are fully aware of what exactly a stock is and what it does.
A stock or share is known as a company's equity. In simple terms, owning a stock is like owning a part of a company. Owning a share does not make you an executive of the company, but it does entitle you to a specific percentage of the company's shares. This percentage is determined by the amount you paid for the stock and how much it is worth overall.
At the end of the day, your main goal when buying shares is to see a return on your investment. You will want to see the stock price appreciate, meaning it goes up and when you are ready to sell you can sell it for a profit. Depending on the stock, you may also receive dividends as income, which are payments made to shareholders out of the company's earnings. In Australia, they are paid twice a year while in the United States they are paid quarterly.
How does a share work?
So why would a company sell shares in the stock market when they could just keep the profits for themselves? When a company sells shares or goes public by listing on a stock exchange, meaning they open up the opportunity for the general public to buy shares in their company, this helps a business to actually raise more money. This process is initiated through an initial public offering (IPO).
Once a company's stock is on the market, it can be bought and sold freely between investors. You don't buy stock directly from the company, instead you buy and sell shares via a stockbroker. These days, many investors trade online via a trading platform that connects them to various exchanges around the world.
What is a stock exchange?
Stock exchanges are secondary markets where investors can transact to buy and sell shares. Stock exchanges are self-regulatory organisations (SROs), which are non-governmental organisations that have the power to create and enforce industry regulations and standards. The main priority of a stock exchange is to protect investors through the implementation of rules that promote ethics and equality.
Getting a company listed on a reputable stock exchange can create a variety of benefits, including:
Instant liquidity for shares held by a company's shareholders;
Additional funds raised for the company by issuing more shares;
Publicly traded shares allow companies to set up stock option plans for employees that help to attract new hires; and
Greater visibility in the market can help drive up the share price for a particular company
While we think the positives definitely outweigh the negatives when it comes to listing shares on a stock exchange, there are potential problems a company may encounter including.
Significant costs, such as listing, compliance and reporting fees; and
Regulations that may constrict a company's ability to do business.
The largest stock exchanges in the world
Stock exchanges date back to the 16th century and have been growing ever since. The NYSE and Nasdaq are the two largest exchanges in the world, and both are located in the United States. Below is a table of the world's largest stock exchanges, ranked according to total market capitalization.
| Exchange | Location | Market Capitalisation |
| --- | --- | --- |
| NYSE | U.S. | 24,223,206.00 |
| Nasdaq - US | U.S. | 11,859,513.50 |
| Japan Exchange Group Inc. | Japan | 6,180,043.00 |
| Shanghai Stock Exchange | China | 4,386,030.60 |
| Euronext | Europe | 4,377,263.30 |
| LSE Group | U.K. | 4,236,193.90 |
| Hong Kong Exchanges and Clearing | Hong Kong | 4,111,111.70 |
| Shenzhen Stock Exchange | China | 2,691,604.50 |
| TMX Group | Canada | 2,288,165.40 |
| Deutsche Boerse AG | Germany | 2,108,114.40 |
| BSE India Limited | India | 1,999,346.50 |
| National Stock Exchange of India Limited | India | 1,973,824.00 |
| Korea Exchange | South Korea | 1,661,151.70 |
| SIX Swiss Exchange | Switzerland | 1,598,381.50 |
| Nasdaq Nordic Exchanges | Nordic / Baltic | 1,516,445.60 |
| Australian Securities Exchange | Australia | 1,429,471.00 |
| Taiwan Stock Exchange | Taiwan | 1,084,507.30 |
| Johannesburg Stock Exchange | South Africa | 988,338.80 |
| BME Spanish Exchanges | Spain | 808,321.40 |
| BM&FBOVESPA S.A. | Brazil | 804,106.30 |
How are stock prices set?
There are numerous ways the price of shares can be set on the stock market, but the most common practise is through an auction process where buyers and sellers place bids for a particular share. The market is comprised of millions of investors and traders who hold differing values of a specific stock which affects the willingness to buy or sell it. Due to the vast number of buyers and sellers present in each market, thousands of transactions occur simultaneously causing the market to ebb and flow minute-by-minute throughout the course of each trading day.
Investing in shares
If you are considering investing in shares, your best bet is to invest over the medium to long term, as studies show stock investments generate greater returns when compound interest is applied. Studies also show that the returns made from investments in shares are superior to those from every other asset class.
Before beginning your investment journey into the stock market, there are a few key questions you should ask yourself, such as:
How much are you willing to invest?
How long do you want to have investments in the stock market for?
What is your risk and how do you plan to manage it when investing?
You will also want to think about what kind of stocks you are interested in investing in. Each market is different, but there are typically different sectors and industry groups you can choose from. We always recommend, when starting out, that you focus on the top 20 shares on the stock exchange, as they are the most liquid. In addition, two key ingredients to a successful portfolio is diversity and the ability to manage risk. I share my advice on how to achieve this, particularly when investing in the Australian Securities Exchange in my article on buying ASX shares.
For additional advice on how to begin building your investment portfolio, read through my four golden rules to investing in shares and how you can apply them to reduce your risk while ensuring your long-term success.