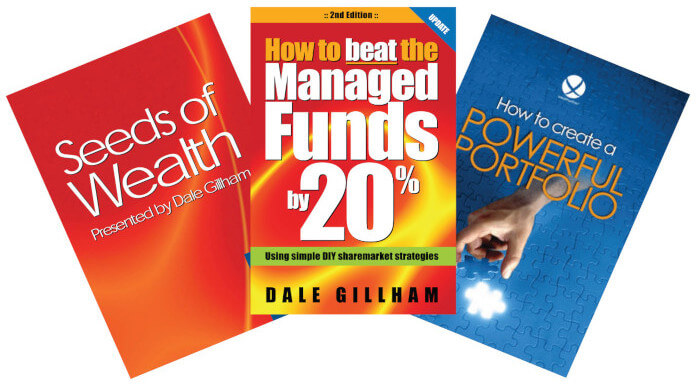 Think of this investment pack as a keystone, the stone at the top of an arch that holds all the other stones in place
Renowned stock market commentator, and key note speaker Dale Gillham, is not your average share market investor.

As co-founder of Wealth Within, a boutique investment company providing financial and educational services to traders and investors, he personally uses the strategies he teaches every day to manage millions on behalf of his clients.
What Dale has to say will explode many of the common myths about investing in the stock market and provide you with a practical and easy to understand approach to profiting consistently from the stock market so that you can achieve better returns than most fund managers.
What does the investors pack include:
DVD: How to Create a Powerful Portfolio



DVD: Seeds of Wealth

Book: How to Beat the Managed Funds by 20%

Dale reveals:
How to select winning stocks to suit your investing style,

How to stop losing and start making money,

How to outperform the managed funds by 20%,

The secrets to building a powerful portfolio,

How to construct a powerful portfolio for your self-managed super fund or personal investments,

How to increase the profits you take from the market using leverage,

Plus a whole lot more.

DVD: How to Create a Powerful Portfolio
In this entertaining and informative presentation, Dale shows you what you need to know to create a powerful portfolio to achieve strong stock market returns. He leads you, step by step, through the process, enabling you to implement what you have learned straight away.
DVD: Seeds of Wealth
In his down to earth style, Dale communicates in the Seeds of Wealth presentation why including the right stocks in your investment portfolio is the key to your financial future, and how you can outperform most other asset classes, including property. He debunks the myths associated with the mantra of 'diversification' and proves why this strategy actually increases risk and decreases returns. Through his logical and practical style, Dale provides you with easy to follow trading strategies that incorporate money management rules and a workable trading plan.
Book: How to Beat the Managed Funds By 20%
As a best seller, How to Beat the Managed Funds by 20% has helped thousands of people to secure their financial future. Dale shows you how by simply investing in some of Australia's biggest and strongest companies, you can not only achieve very profitable returns but also beat the managed funds by at least 20%.
Price: A$99.95