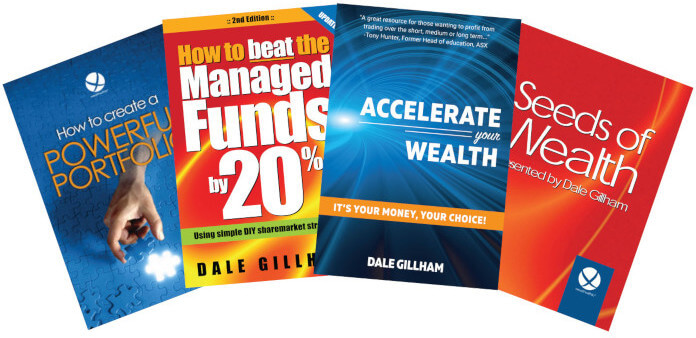 Get the best of both worlds with our all inclusive investment bundle
What Dale Gillham shares will explode the many common myths about trading and investing, and provide you with a practical and easy to understand approach to taking profits from the stock market on a consistent basis.

Regardless if you are new to the stock market or you have been trading for sometime and still experiencing challenges, you will gain the knowledge and confidence to improve the profits you take from the market so you accelerate your wealth.
What's included in the investment bundle:
DVD: Seeds of Wealth

DVD: How to Create a Powerful Portfolio

Book: How to Beat the Managed Funds by 20%,

Book: Accelerate Your Wealth, It's Your Money, Your Choice!

Dale reveals:
How to select winning stocks to suit your investing style

How to stop losing and start making money

How to create capital gain and cash flow regardless of market direction

How to outperform the managed funds by 20%

The secrets to building a powerful portfolio

How to accelerate your profits using leverage, safely and conservatively

The power of compounding your investments

Why you need a trading plan, and roadmap before you invest your hard earned money

How to construct a powerful portfolio for your Self-Managed Super Fund or personal investments

Simple trading strategies that will let you determine market direction and sentiment

Trading for a lifestyle

Achieving financial independence

Plus a whole lot more

DVD: How to Create a Powerful Portfolio
In this entertaining and informative two hour presentation on How to Create a Powerful Portfolio, Dale provides you with timeless strategies you can start using today to better manage your portfolio, which will enable you to increase your returns while lowering your risk.
DVD: Seeds of Wealth
Packed with information you can use straight away, the Seeds of Wealth presentation will put you in the driver's seat of your financial future so you become one of the 10 per cent who consistently profit from the stock market.
Book: How to Beat the Managed Funds By 20%
As a bestselling book, How to Beat the Managed Funds has helped tens of thousands of individuals secure their financial future. Dale shows you how by simply investing in some of Australia's biggest and strongest companies, you can not only achieve very profitable returns but also beat the managed funds by more than 20 per cent.If you haven't previously had the confidence to take it upon yourself to invest in the stock market and have always sought outside advice, then this book may just be the book to give you the confidence to go it alone.
Book: Accelerate Your Wealth - It's your money, your choice!
Dale provides you with another compelling book on why investors and traders should take the bull by the horns and invest directly in the stock market. If you are serious about wanting to grow your wealth by investing in the stock market, then Accelerate Your Wealth is a 'must-read'.
Price: A$119.95