Market outlook for 2010
---
Published in Financial Planning Magazine, Volume 21 Issue 10, 2009 by Dale Gillham
The sub-prime mortgage meltdown and the subsequent bear market that has followed highlights the significance of how the emotions of fear and greed govern the decisions that individuals make in regard to their investments.
Many investors watched their investments fall 40 to 70 per cent over the past two years, causing a rethink not only of their investment strategy but who they will trust in the future to assist them in making investment decisions. '
With many investors now looking to educate themselves rather than rely solely on advisers, I believe the events of the past two years have served as a wake up call for the industry to get back to basics, as it cannot afford to be complacent when it comes to managing client portfolios.
All too often investors and advisors have failed to make the necessary decisions in regard to investments and then use the old clichés that it is 'time in the market that counts', or 'I haven't lost because I haven't sold yet', or 'it's a good share and will come back to where it was before'.
In essence, these clichés are simply an excuse for lack of knowledge and a solid investment strategy, but this needn't be the case.
Emotions amplified in volatile markets
Decisions based on fear stem from the concern of not wanting to lose money, while decisions based on greed result from a desire to make money now.
In a volatile market, however, these emotions can be amplified, particularly when the investor lacks the required knowledge and understanding.
This is where it is critical for advisors to proactively educate their clients so they understand that their actions or inactions can and do effect their portfolio returns.
Unfortunately, the poor returns experienced by many clients over the past two years can also be attributed to the lack of action on the part of advisers.
Many chose to ignore the warning signs and in so doing failed to make critical decisions to move funds out of the share market and into cash or other low risk vehicles.
This lack of action persisted even after the market continued to fall and it was evident that holding funds in the share market was high risk.
Fear experienced by advisors often stems from not wanting to lose Funds Under Advice (FUA) or potentially making the wrong decision and consequently suffering retribution from clients.
However, I can say from experience that those advisors who do take a more active approach to managing client's funds have a far greater proposition to not only retain clients but also attract new ones, which is why I believe it is far better to be proactive than reactive.
Market cycles
It is a well known fact that the Australian share market suffers a fall of around 20 per cent every 4 to 5 years and every 4th or 5th downturn historically results in a fall of around 50 per cent plus.
Educated investors understand this, and know how to avoid these market downturns and/or profit from them.
They also understand that investing is about managing risk and it is the ability to manage risk that ensures they profit.
Figure 1 below, clearly shows the 4-year cycle on the All Ordinaries Index between 1986 and 2009.
There are seven cycles over 22 years with two suffering falls greater than 50 per cent, one greater than 30 per cent, two more than 20 per cent and two greater than 15 per cent.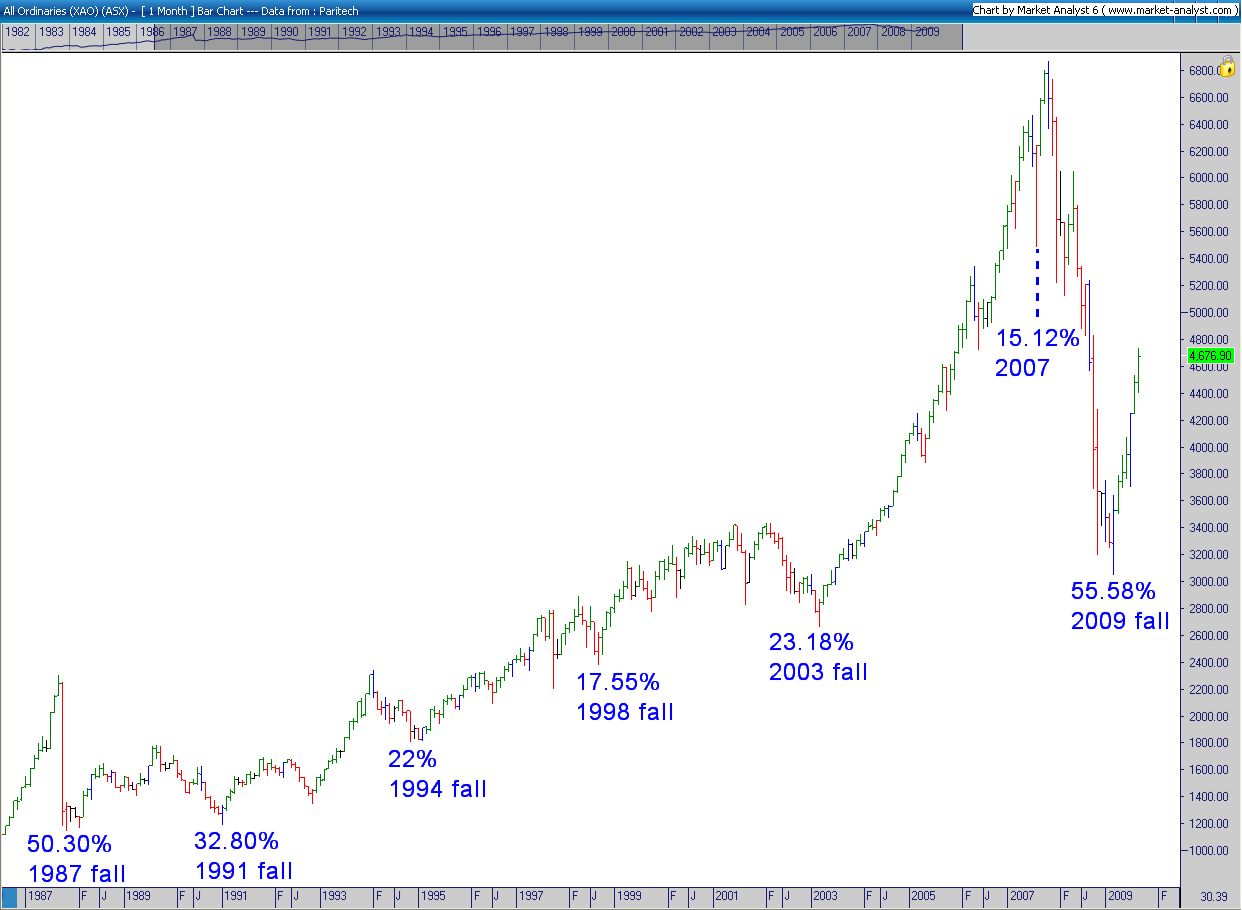 Figure 1 Click to enlarge
The average fall in the Australian share market over the 22 years between 1986 and 2009 is 30.93 per cent.
This is consistent with research produced by AMP Capital Investors on bear markets in Australia as shown in Figure 2 below.
The table highlights that on average a bear market will fall for 15 months by around 34 per cent.
The bear market that ensued from the sub-prime mortgage meltdown lasted approximately 16 months from the September 2007 high to the low in March 2009 and fell 55.58 per cent.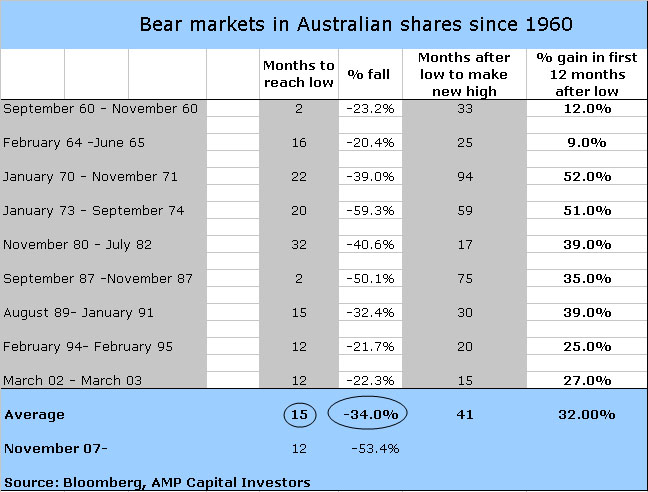 Figure 2 Click to enlarge
This knowledge is not new. In fact we can go back not just decades but centuries on all major world markets and get similar findings.
So this raises some interesting questions.
If we know this, why did most investors and advisors fail to act prior to the sub-prime meltdown?
Furthermore, if we take the past two years as a wake up call and assume that March 2009 is the bottom of the bear market, what actions will we take in the next 4 to 5 years to ensure investors do not suffer again?
How will we help those investors who are looking to retire in the next 3 to 4 years to make wise choices before they suffer the effects of a market downturn?
Let's face it, investors can be fickle and it is hard work keeping them happy especially when it comes to direct share investments where the account activity is so transparent.
None of us have a crystal ball nor do we have the benefit of hindsight when making investment decisions.
Therefore we need to use what we have. And the single greatest tool we can use when it comes to the share market is money management.
Money management
There are really only two things we can control when it comes to the share market: 1) when we enter and 2)when we exit.
It is for this reason that it is essential to have a workable plan together with solid money management rules.
These two strategies alone can save you thousands in lost opportunity but more importantly, save you from suffering significant losses.
Outlined below are some simple money management strategies that, when implemented, will assist in reducing risk and increasing portfolio returns.
1. Use stop losses to protect capital
Successfully investing in the share market is not about how much money you make.
Rather it is about how much you do not lose. It is about minimising risk not maximising profits.
A stop loss is simply a price point where you want to sell a security to preserve capital if a recently entered trade turns against you or to protect the profits of a winning trade.
If you think about it, this rule alone would have saved investors from losing thousands over the past few years.
2. Don't dollar cost average
According to many professionals, dollar cost averaging can reduce the risk of investing in volatile markets and help to avoid the 'so called' pitfalls associated with 'timing' your entry into and out of the market.
In my opinion, however, this strategy is flawed because investors subject themselves to increasingly higher levels of risk when investing in assets that are falling in value, which was certainly the case over the past two years.

In essence dollar cost averaging increases risk and reduces profits, which is the reverse of what it was intended to do.
I am sure investor's who practiced this theory with Babcock and Brown, ABC Learning Centre's, Alco, Centro, Aristocrat Leisure, Macquarie, Timbercorp and the many other shares that have fallen heavily in the past few years, would now be questioning this advice.


3. Don't buy and hold
"Time in the market" is probably the most perpetuated myth in the financial industry.
The reason why most of us hear the words 'buy and hold' or 'it is time in the share market that yields returns' is because the industry cannot or does not want to time the market.
But to accept that time in the market is more important than timing the market is probably the greatest downfall of anyone wanting to beat the market average.

You only have to look at Telstra, where investors who bought into all three floats are now holding a stock that is trading at levels below their purchase price, with the share falling by as much as 62 per cent in the past 10 years.
In reality, investors' are no better off than if they had their money invested in a bank account. NAB, AMP and Brambles are also examples of top 20 shares that have also exhibited a negative capital gain over the past 10 years, yet all have had periods of excellent growth during that time.
4. Diversify but not too much
While it is true that diversification reduces risk, a portfolio of shares that is over-diversified increases risk, as it exposes the investor's portfolio almost exclusively to market risk, therefore condemning it to average market returns.
A properly diversified share portfolio should have somewhere between eight and 12 shares in order to diversify the specific risk.
Research on modern portfolio theory indicates that increasing a portfolio beyond 12 stocks exposes the portfolio to market risk, which cannot be eliminated by diversification.
The trick is not to have lots of stocks with small amounts invested in each.
Rather it is better to have a smaller number of stocks with larger amounts invested in each.
The effect of this is that it actually lessens the overall portfolio risk and increases returns, both of which are positive outcomes for the investor.
Market outlook
So where is the market heading over the next one to two years?
The current bullish conditions that have existed since the All Ordinaries Index made a low of 3052.50 points in March this year, is in my opinion, a bear market rally rather than a new bull market.
Figure 3 below details one possible scenario of how the All Ordinaries Index may unfold between now and mid 2011.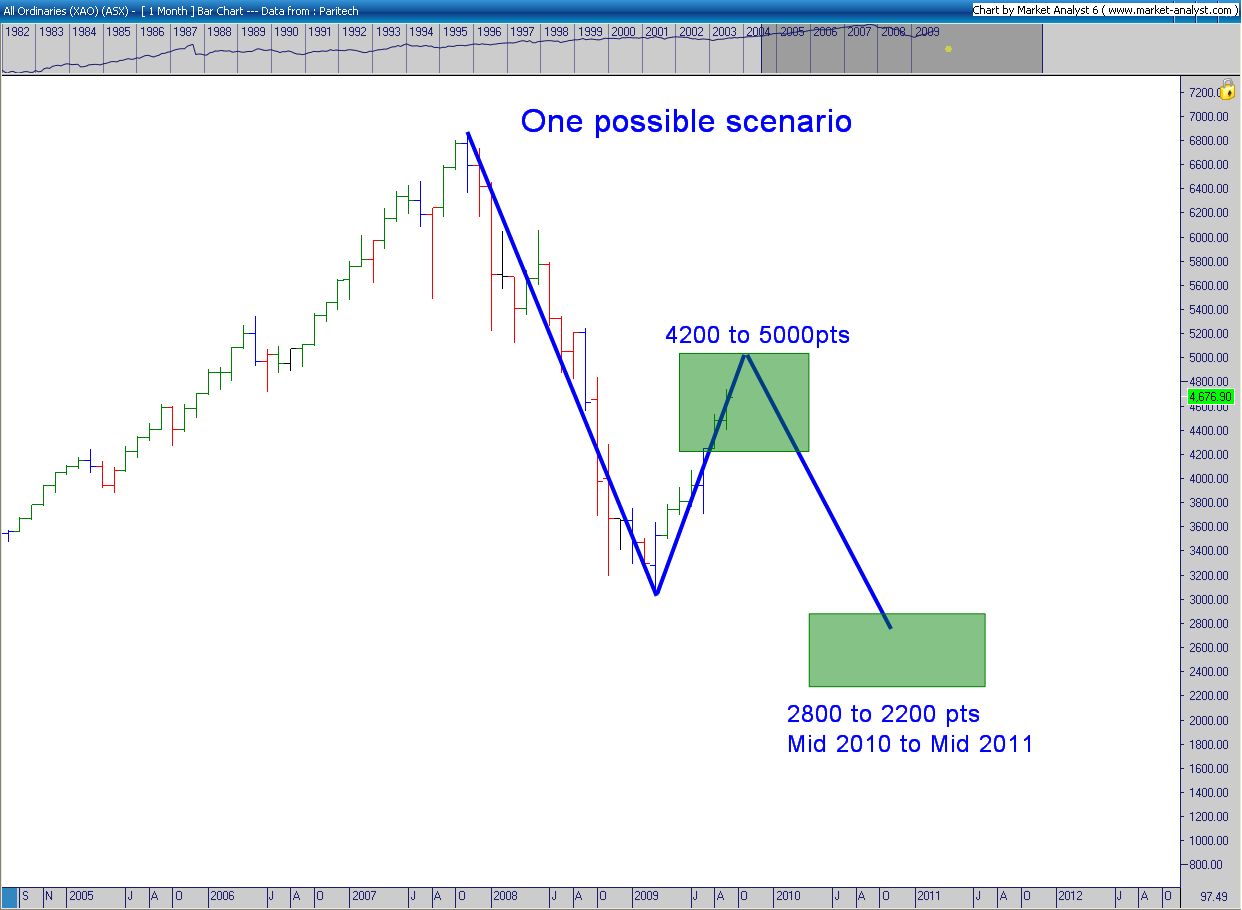 Figure 3 Click to enlarge
The All Ordinaries is likely to achieve its high for 2009 somewhere between 5000 and 5200 points.
After this we will see an increase in volatility as the market falls to a low in November or possibly December 2009.
The market will then rise up into the first quarter of 2010 to around 5400 points before moving down into a yearly low in March or April.
I believe 2010 will be a tough year, in which the All Ordinaries Index is likely to drift sideways and down into the first half of 2011.
While I have provided one possible scenario as to how the market will unfold, it is wise to always have an alternative plan because as I have learnt over many, many years the market will always do what it wants rather than what we would like it to do.
Given this, it is possible that the All Ordinaries Index could move up to around 6000 points by mid 2010 before moving down for approximately 12 months into a low in mid 2011.
While this is possible, I believe the bullish nature of the market is unsustainable given that it has been predicated on the stimulus package by the government and the demand for housing from first home buyers.
Over the coming 12 months it is possible that the market will be more bearish as spending slows, unemployment rises and more Australians begin to suffer mortgage stress.
As far as sectors are concerned, I believe the information technology, materials and consumer staples sectors should be solid performers over the next 6 months.
In the medium to longer term I believe opportunities will come more from the energy and healthcare sectors.
I also believe the Australian dollar will remain strong against the US dollar as the US currency is likely to come under a lot of pressure in the coming years which could see a shift to it being less dominant in the world economic arena.
No matter which scenario unfolds in the market, what I have learnt over the years is to plan for the worst and hope the market delivers better.
If I fail to plan, as many did prior to 2007, then as the saying goes 'I plan to fail'.
Regardless of what unfolds between now and 2011, one thing I am sure of is that there has been a paradigm shift in the world markets, and investors will need to take an active approach to their investments rather than being complacent.
Back to Articles