How to Double Your Trading Returns with Minimal Risk
I remember presenting to an audience around ten years ago and following my presentation a gentleman came up to me as he wanted to show how he had doubled his money. He then reached into his pocket and pulled out a $50 note, folded it in half and said "there you go!" While he had a desire to make money in the stock market, he was sceptical although he clearly had a great sense of humour.
In all seriousness, while you can double your trading returns in the stock market with minimal risk, I realized that the gentleman's response above merely reflects the scepticism that is widely held about the possibility of making great returns in the market. And while I understand why people may be sceptical, this is often based on fear and incorrect perceptions rather than founded on solid facts.
The statistics don't lie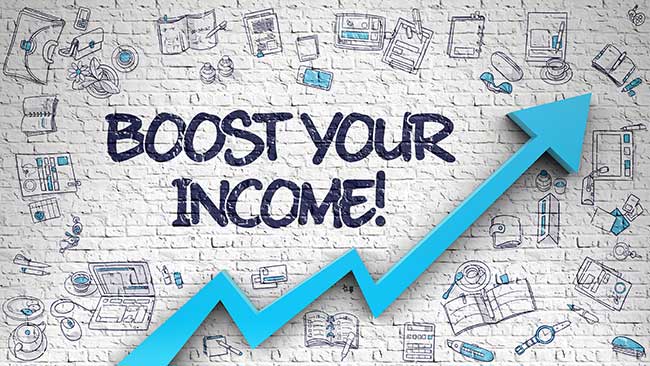 We have a 60 second trading assessment survey on our website that helps individuals identify what they may need if they want to achieve their goals in the stock market. Of those who have completed the survey, around 87.65 per cent said they have limited to no knowledge when it comes to trading the stock market, while 80.80 per cent state they are either not confident or only somewhat confident with their trading but they are still not profitable.
What was even more interesting, however, is that over 88 per cent of all respondents said they wanted to take the bull by the horns to gain a quality education, yet the majority had not done this, and statistics indicate that they never will. As Thomas Edison once said "Opportunity is missed by most people because it is dressed in overalls and looks like work".
In regards to trading successfully and profitably, the statistics prove time and again that people fail to commit the necessary time and money because it takes sustained effort and involves a level of risk that they may fail. So all jokes aside, this is why those who have the potential to double their money will never give themselves the opportunity to do so because they fail to do what they know they should be doing, although this needn't be the case.
To put this into perspective, we recently received an email from a client who had enrolled in our Diploma of Share Trading and Investment course in July of this year, and who had attended one of our seminars in Melbourne around 18 years ago. He literally started out with the email by saying "some people just don't get it, and that's me".
You see, he communicated that he had wandered around in the trading wilderness looking at this and that, listening to many people and buying everyone's program (except ours) in the hope of succeeding. But in all those years he had lost more money than he ever made from the market, as he had not learnt to protect his capital, among other things.
And it wasn't until he was between a rock and a hard place that he realized he needed to do something about his trading. With his wife's encouragement, he decided to finally enrol in our Diploma course, and while at the time it appeared to be a lot of money (as he was a pensioner), he had come to the conclusion about how much time he had already wasted, as he realized how much better off he would have been in so many ways had he acted sooner.
He finished up his email by saying that some people are just so thick and "know it all's", that they just don't get it, BUT now I do and I have done something about my future.
Remember, the statistics don't lie. Over 90 percent of people who believe they are traders fail to make money consistently because they focus their attention in all the wrong places.
The challenge with doubling your trading returns
You see the challenge with reading books, watching YouTube videos or attending weekend workshops is that many people only gain a fraction of the information they require to be consistently profitable in the stock market. But people are attracted to this way of learning because it is cheap and involves very little risk or effort, which is why Edison states that most people miss the opportunity.
In fact, many people end up scratching their head in confusion when they try to apply what they have learnt in a book or at a workshop to the real world of trading. That's because they either don't understand how to apply the knowledge they have gained or there are gaps in the information they have received. In the end, it costs them in lost capital and opportunity, which affects the quality of life for them and their family.
In essence, because the opportunity looked like work, they failed to allocate the necessary time and resources needed to be successful, and so achieved the opposite of what they desired.
Unfortunately, too many people believe that an investment in knowledge is a cost rather than an investment. Therefore, they focus on what education is costing them in time and money rather than looking at it from the perspective of how much it is costing them by not having the right knowledge or education.
But when you arm yourself with the correct knowledge and support, you will confidently begin your journey towards securing your financial future, and in doing so, you will come to know that you can deliver consistent results time and again, rather than just hoping you can. Remember, the statistics don't lie. A lack of education or the wrong education costs you dearly both in time and money, so be careful about the path your take or who you choose to learn from.
Your trading returns are the most important factor when investing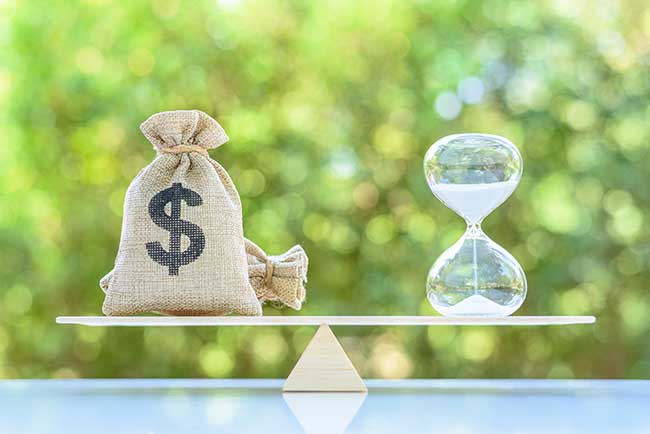 Research conducted for the Australian Stock Exchange (ASX) indicates that Australian investors rate the return on their investments as the most important factor when looking to invest followed by either a guaranteed or stable return. And investors expect these returns to be in the order of 8 to 9 per cent per annum.
So what the research is suggesting is that investors expect high returns with no risks attached, which we all know is pretty unrealistic. But it is this thinking that is holding a lot of investors back from achieving the returns they desire.
The research also demonstrates that most investors prefer to do their own homework when it comes to investing with a considerable number relying on third party broker reports to make their investment decisions. But many are still unhappy with the returns they are achieving, as it is well below the expected 8 to 9 per cent per annum.
That said, many also prefer to make their own decisions despite not having much knowledge or understanding about the stock market, yet they still expect to achieve returns in the vicinity of 8 to 9 per cent. Given these unrealistic expectations, it's no wonder that 90 per cent of those who invest in the stock market either breakeven or lose money.
So, let me ask, how much are you willing to invest in yourself in order to know how to double your returns?
Would an education be expensive if you could double your returns?
Let's assume you invest $50,000 and you make an 8 per cent return, you will have made $4,000. Now, what If you made 12.5 per cent per annum, then your return would be $6,250, which equates to an improvement on your previous return of $2,250 or over 56 per cent.
It may surprise you to learn that over a 10 year period, trading the top 20 stocks on the ASX using a simple trend line and a stop loss, Dale Gillham achieved a return of around 12.50 per cent per annum in his latest book Accelerate Your Wealth, so these types of returns are very achievable.
So, what if you could double your returns without dramatically increasing your risk? How would that make you feel and how would that change your life?
Now imagine that you have doubled your returns without dramatically increasing the time you currently put in. No doubt you will begin to see why having a much better understanding about the stock market and how to trade it will change your life.
Let me show why a lack of knowledge is costing you a lot of money.
Let's assume you have $50,000 to invest and you decide you will also contribute $200 each month in savings to invest in the market. Using ASIC's compound interest calculator with an interest rate of 10 per cent, over 10 years, you can see your total investment would grow to over $176,000.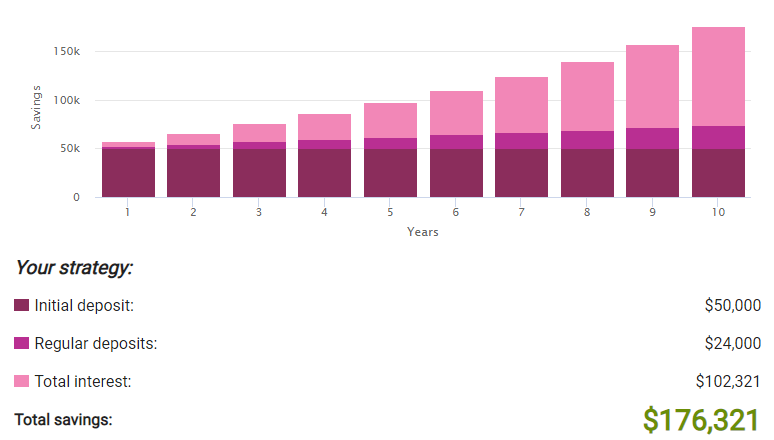 Figure 1: 10% return over ten years
Now let's consider what the outcome would be if you invested the same amount but you achieved a return of 20 per cent. As you can see, your return would grow to over $438,000 or an improvement of around $262,300 over ten years. Now that has to be worth the value of putting on those overalls and getting a solid education.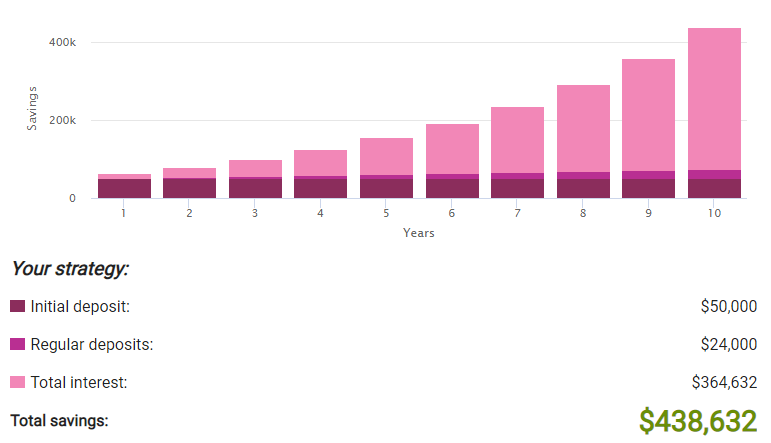 Figure 2: 20% return over ten years
Unfortunately, it's a lack of knowledge combined with fear, and our limiting beliefs about the stock market that is costing many individuals far more than they ever realise.
Benjamin Franklin once said "An investment in knowledge pays the best interest" while Jim Rohn said "If someone is going down the wrong road, he doesn't need motivation to speed him up, what he needs is an education to turn him around".
Einstein was also famously known for saying "Education is the progressive realization of our ignorance". In fact, it's a well-known fact that ignorance is far more expensive than education.
While many of you will appreciate the wisdom of what these gentleman are saying, you will continue to rely on hot tips or interact in chat forums and continue watching YouTube in the hope you will achieve high returns for little to no effort. But we all know that this results in disappointment because it's not realistic.
So ask yourself, what's it going to take for you to make the decision to put on those overalls and take on the opportunity to be able to achieve the results you've been seeking? As Dale Gillham's (Chief Analyst at Wealth Within) late mentor used to say: "have a great day and make it a great day". In other words, put on your overalls and grab those opportunities to ensure you achieve your goals.
Others who read this also enjoyed reading: